A downgrade would hit Kiwibank's access to wholesale funding, an expert says.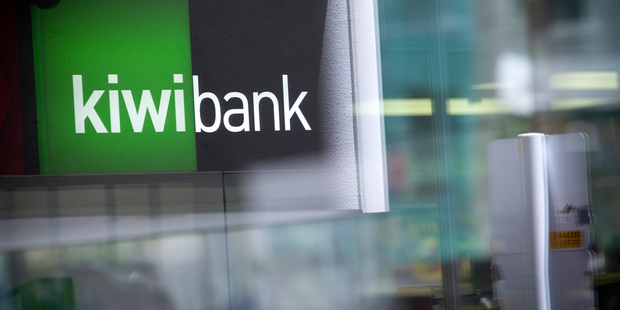 Kiwibank could face higher wholesale funding costs if an international rating agency follows through with its threat to cut the state-owned bank's credit rating, a banking expert says.
Standard & Poor's fired a warning shot at Kiwibank and its parent company New Zealand Post late on Tuesday by downgrading its credit outlook from stable to negative.
The outlook downgrade means the bank has a one-in-three chance of its rating being lowered over the next two years.
Kiwibank had its rating lowered by S&P in October from AA-to A+, putting it one notch below the four major Australian-owned banks. If the rating was cut again it would be the lowest level the bank has ever been rated at by S&P.
David Tripe, a director at Massey University's Centre for Finance Services and Markets, said if Kiwibank's rating was downgraded he would expect it to have a negative impact on the bank's access to wholesale funding. It would then be up to the bank whether it passed any funding cost increases on to its customers through higher mortgage rates.
"They could pass it on or could decide to absorb it."
Tripe said the outlook downgrade should not be cause for concern for those with money in the bank and should be taken in context.
"This is very much a reflection of S&P's view on the economic conditions in New Zealand."
Tripe said it also had to be seen alongside the S&P outlook downgrades made last week to a number of smaller banks and credit agencies.
Eight financial institutions including TSB Bank, Heartland Bank and the Co-operative Bank were moved from stable to negative outlooks last Thursday.
S&P said the downgrades were based on concerns about New Zealand's economic vulnerabilities including its material dependence on external borrowings, persistent current account deficits, and recent strong growth in house prices.
"In our view, this increases the risk of a deterioration in New Zealand banks' credit qualities," the ratings agency said at thetime.
It maintained stable ratings for the Australian-owned banks and Kiwibank then because of support from their parent companies.
But a spokesman for S&P said it had subsequently revised its view on Kiwibank because of the pressures Kiwibank's stand-alone credit profile could place on the rating of its parent New Zealand Post. Kiwibank represented about 70 per cent of the group's consolidated earnings, the S&P spokesman said.
A spokesman for Kiwibank said it did not comment on ratings but pointed out that it was rated among the top 25 banks in the world in terms of safety.
NZ Post chief financial officer Mark Yeoman said the change was unlikely to affect its short-term commercial paper programme, which stands at about $30 million, or its listed debt.
The company has $200 million worth of bonds listed on the New Zealand sharemarket which are not due to mature until 2039 although they can be called in November next year.
S&P said NZ Post had a stand-alone credit profile of BBB but in its opinion there was a "very high" likelihood the New Zealand Government would provide support if the business got into financial distress.