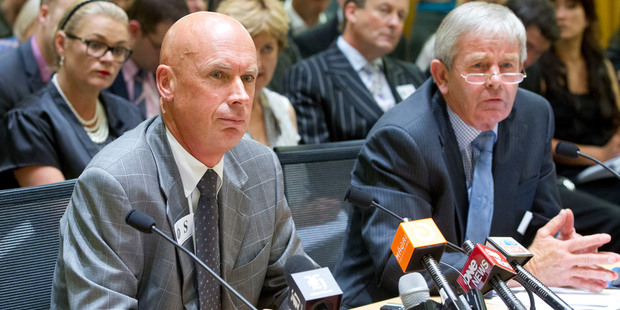 Former Solid Energy Chairman John Palmer fought against Treasury's wish to have an independent advisor appointed to the company's board last year as the state owned coal miner's problems mounted, official documents show.
Treasury this afternoon released a new batch of documents which trace its dealings with the company including details of an ill-tempered exchange between Palmer and Treasury deputy secretary John Crawford just a few days before Palmer left the company in August last year. The email suggests Treasury and the Government had lost confidence in the board and management by that stage.
In an August 14 email to ministerial officials including at least one in the Department of the Prime Minister and Cabinet, Crawford reported he had just had a conversation with Palmer, "which has not ended where I would have wished".
The conversation took place just a few days before Solid Energy's board was to meet to consider the future of the costly but troublesome Spring Creek mine and the Huntly East mine.
"He does not see it as being appropriate that Treasury participates", Crawford said.
"Secondly, he does not see the need for an independent advisor providing advice to the Board (or shareholders) in respect of the major decisions they face."
Crawford reports Palmer as saying the decisions were "straightforward and will not be changed or helped by the involvement of 3rd party advisors".
Palmer is also reported as giving a similar view with regards to the decision about Huntly East.
"I have made the point on both of these that we do not have confidence in management making these calls given it is the same management that has got us into the current situation", Crawford says.
"His counter is that the Board is across these issues and has the ability to make these calls and interrogate management on their proposals. The question of our confidence in the Board did not arise."
Despite Palmer's opposition, Fletcher Building director Alan Jackson was appointed as an advisor the following week.
Solid Energy had been put on "intensive monitoring" by Treasury three months earlier due to its deteriorating financial performance and "early warning signs around its balance sheet".
Around that time, Palmer announced his intention to step down before his contract ended in 18 months time.
However, Palmer resigned on August 18, just three days after his correspondence with Crawford and the same day as the company announced a net loss of $40.2 million and write downs of $111 million.
Prime Minister John Key yesterday indicated Solid Energy's future was bleak according to a recently completed report on the company.
Key said corporate advisers KordaMentha had just completed their report on the company which is on the brink of collapse after being crippled by low coal prices and almost $400 million in debts.
"They would indicate that some parts of the business are in better shape than others" Key told reporters yesterday.
"So in totality it's probably got no equity left and significant debts but that doesn't mean there aren't some parts of it that are potentially genuine businesses. The question is how the Government can take the next step."
Key said there were "many options on the table".
"None of them are terribly palatable but we're doing our best to try and resolve what is a quite broken company."
Key expected State Owned Enterprises Minister Tony Ryall and Finance Minister Bill English would have "clarity" about the next steps within a month.
The indebted state-owned enterprise announced more than 100 job cuts earlier this month and English said the Government was prepared to let the company fail if it could not come up with a viable turnaround plan.
New chairman Mark Ford says he has "total confidence" Solid Energy's s revamped business plan would be acceptable to the Government and banks.
Asked if Ford's plan was viable, Key yesterday said he hadn't seen it.
"If it is that would be great. That's not the advice we've had just yet."