Leading Maori journalist approached by Parekura Horomia in past about putting himself forward for selection.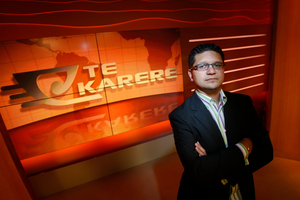 TVNZ broadcaster Shane Taurima announced his bid for Labour's Ikaroa-Rawhiti byelection candidacy yesterday on Te Karere, the news programme he is responsible for.
The seat has been vacant since the death of Labour MP Parekura Horomia last month.
One of Maoridom's leading journalists, Mr Taurima said Mr Horomia had approached him in 2007 about standing in 2008 and then again in 2011.
"Given my career choice and the absolute need to be impartial, apolitical and professional I would politely decline his approaches and he respected me for that. It wasn't my time back then. I wasn't ready. But I am now."
Georgie Hills of TVNZ said Mr Taurima resigned from Q+A before Sunday's show, a decision tied to his political aspirations, and is on leave.
Asked whether he could come back to the state broadcaster if he was unsuccessful, given that he'd revealed his political colours, Ms Hills said: "Whatever the outcome is, TVNZ will work through any issues that arise from his candidacy bid in coming weeks."
Political commentator Matt McCarten says the days of public servants and blueblood pedigree candidates who had dominated the Maori seats were numbered. Broadcasters were the new flavour.
"The Maori electorates are huge so having a name is important because the seats are effectively first-past-the-post. So, it's not about getting skilled technocrats on their lists who'd be good members of Parliament. You're actually after the win. You can't campaign in them the same way as you can in others. Geographically it's not possible, so you need a name.
"Guys mainly in this instance who are in television, who build a persona and a familiarity and because they do a lot of politics it gives them credibility. Political by nature, they interview ministers and the PM, they get used to that world and they're not intimidated by it and then they probably start thinking: 'Well, I could do this job, these guys aren't that bright'."
Mr McCarten said he had some advice for parties: "There's an obligation to bring these young, ambitious, talented people who are used to being the stars, you've got to give them space ... not try and make them some flunky on the backbenches. It doesn't work. You've got to use their talent and perceived credibility."
Popular Maori Television presenter Matai Smith told the Herald he had been approached by three parties to stand in the byelection. One sounded him out at Mr Horomia's tangi, the two others in the days afterwards. He said he was "surprised" at the interest and although the "timing wasn't right" he didn't rule out standing in the future.
Newsreader Scotty Morrison had been shoulder tapped in the past while Maori Television's Julian Wilcox would also be highly sought after if he chose to enter politics, sources said.
Media meets politics
Claudette Hauiti: Former director of television production house Front of the Box, next on National's party list.
Joe Glenn: Former Te Karere reporter, Rimutaka candidate for NZ First in 2011.
Brendan Horan: Former TVNZ weather man, NZ First exile, independent MP.
Bob Parker: Ex-television presenter, Christchurch mayor.
Maggie Barry: Garden show presenter, former radio journalist, National MP.
Kris Faafoi: Ex-One News political reporter, Labour MP.
Pam Corkery: Alliance MP, broadcaster, former mayoral candidate.
Lockwood Smith: Ex-game show host, former Speaker.