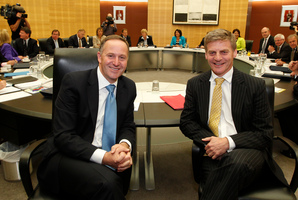 Two of Prime Minister John Key's own departments - the Department of Prime Minister and Cabinet, and also Tourism - are to get some of the biggest increases in funding under yesterday's Budget.
Across all of the state sector, output expense or operational expenditure was $36.39 billion - $748 million more than their Budget Day allocation last year, an increase of 2 per cent.
Among the large departments, the Health budget was up 2.2 per cent to $14.11 billion, Education was up 8.5 per cent to $2.39 billion and Transport rose 5.9 per cent to $1.97 billion. The Defence Force's funding was trimmed by 4.6 per cent to $2.29 billion. The DPMC's budget, however, rose 18.2 per cent to $22.08 million, while Tourism got a 39 per cent increase to $128.78 million.
Last month, Mr Key announced a $158 million package over four years to attract more visitors to New Zealand, including "high-end" visitors from emerging markets and big spending business conventioneers.
But the Government Communications Security Bureau, which Mr Key also oversees, has had a 15.5 per cent or almost $10 million cut. Also under Mr Key's watch, the Security Intelligence Service had its funding increased this year by 9.8 per cent to $37.7 million.
Other departments whose operational funding was cut significantly include the Ministry for the Environment, whose funding was slashed by 10 per cent to just under $130 million; and Statistics, which lost much of the additional funding it received last year to conduct the Census.
Its operational budget fell almost 30 per cent to $114.55 million.
Struggling Government watchdog the Office of the Ombudsman gets a $600,000 boost to its funding.
The Ministry of Foreign Affairs and Trade gets a $31 million increase to $388.11 million.