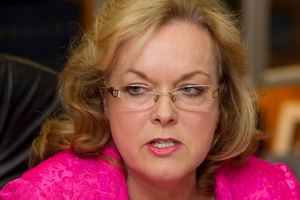 Justice Minister Judith Collins said today it is not her role to round up MPs to form consensus over changes to MMP.
The Government has come under fire after throwing out recommendations to amend the MMP electoral system.
Yesterday Ms Collins announced changes recommended by the Electoral Commission would not be in place before the next election.
The review of the MMP system recommended several changes, including getting rid of the "coat-tailing" provision that exempts a party from having to meet the five per cent Party Vote threshold if the party gets at least one MP.
It also recommended lowering the Party Vote threshold from five per cent to four per cent.
Ms Collins has characterised the eight party leaders in Parliament plus independent Brendan Horan as squabbling children, blaming a lack of political consensus on why the changes have been ditched.
"I'm not actually a party leader. I am the Minister of Justice, and if they need me to organise the kumbaya sessions of party leaders to get together and work out what it is they agree on, then there's something very wrong.
"My job is to receive the information and see if we can get a bill together.
"If these parties want changes they should come and talk to each other. It's not my role for bloody sake.
"I'm not their nanny.
"I'm not in charge of these other parties, I'm not in charge of eight parties in Parliament, plus the independent Brendan Horan."
Ms Collins said questions should be directed to the party leader on why National did not want many changes to the MMP system.
Labour leader David Shearer said National were working with the Act Party to promote their own interests, saying the coat-tailing provision had helped Act and United Future leaders in the past.
Prime Minister John Key said he wasn't directly involved and Ms Collins was answerable.
"My sense at the moment is there's no consistent view across the Parliament.
"Unless you can get to a consensus and put it to the people, my view is to just stick with what you've got," Mr Key said.
He said come 2014, the lowering of the threshold may have helped National.
"Ultimately none of our coalition partners are polling that well at the moment, so in fact it may well be easier for us to get a support party up to four per cent."
Greens' electoral reform spokeswoman Holly Walker said the most responsible thing for the Government to do would be to adopt the independent changes as a package.
She said political parties were never going to agree on all of the recommendations and that's why the independent review had been commissioned.
She said the Greens received one letter from Ms Collins, but no meetings or not further communication.
Act leader John Banks said he would stand in Epsom at the next election.