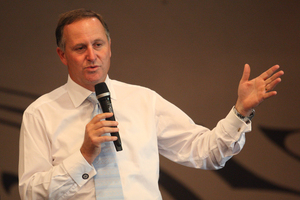 Income-related rental subsidies look set to be extended in tomorrow's Budget to tenants in community-owned housing.
The move, recommended by an advisory group in 2010, has not happened until now because of the cost - likely to be in the order of $30 million a year.
Prime Minister John Key said yesterday that there would be "a little bit of extra money" in this year's Budget because the economy was starting to grow.
Finance Minister Bill English said housing affordability and social housing would be "quite a big focus".
"We want to see more people providing housing and we have got a number of social housing providers - churches, non-government organisations - who are keen to get access to the same subsidy as the Housing Corporation has," he said.
"There will be no reduction in subsidy, in fact probably an increase, but it will be distributed a bit differently."
Asked whether that would mean fewer state houses, he said: "Possibly. I can't confirm whether there will be fewer state houses, but we will certainly be maintaining or increasing the number of people who can get access to income-related rents."
At present, state house tenants pay rents fixed at only 25 per cent of their net incomes, unless they earn more than the rates of NZ superannuation - $357 a week for single people living alone or $550 for sole parents with children or couples.
Above that, their rent increases by 50 per cent of their extra income up to a maximum fixed at the market rent for the property. For example, a sole parent beneficiary with two children would pay only $113 a week, compared with the average market rent of $570 a week for a three-bedroom house in Auckland.
The Government pays Housing NZ the difference between what the tenants pay and the market rents - currently $614 million a year.
In contrast, tenants in community-owned housing typically pay 75 to 80 per cent of market rents. They can get a Work and Income accommodation supplement, but even then a sole parent beneficiary with two children paying rent of 75 per cent of the Auckland average, or $427.50 a week, would end up paying a net rent of $202.50 a week - almost twice as much as what they would pay in a state house.
Income-related rents
Income below NZ super:
Rent 25 per cent of income.
Income above NZ super:
Rent 25 per cent of super rate, plus 50 per cent of income above that up to market rent.