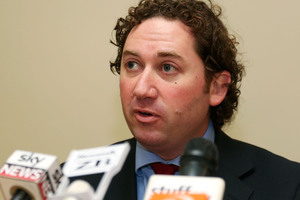 Labour Party leader David Shearer says the party will bring their "popcorn and coke'' to National MP Aaron Gilmore's valedictory speech.
"Like you, we will be waiting for what he's got to say.
"It will be good to get Aaron Gilmore's version of what actually happened - I'd really like to know, for example whether John Key actually spoke to him over the last two weeks.
"John Key likes doing good stuff; but he doesn't stand up and do the bad stuff as well."
Mr Shearer said Mr Gilmore hadn't learnt that texts don't stay between those that read them.
"They generally do get out."
"One thing you do learn as an MP, or anybody in the public eye is humility. Throwing your weight around doesn't get you anywhere," Mr Shearer said.
Watch a live stream of Parliament here:

can't see the video? please click here

Mr Gilmore made his last appearance at caucus this morning. He was farewelled by his National colleagues and received applause.
Mr Gilmore was in the caucus room for 10 minutes before leaving accompanied by the party's chief whip Louise Upston. He refused to talk to media.
Mr Gilmore will give his valedictory speech after question time today. It follows his announcement on Sunday that he will resign after reports of bullying and inappropriate behaviour.
If National Party candidate Paul Quinn does not want to return, former broadcaster Claudette Hauiti will take Mr Gilmore's seat.
Although Mr Quinn said he would not come back as an MP when Jackie Blue resigned last month, he is the highest on the party list outside Parliament. Last night, he said it was unlikely he would change his mind.
It it understood Ms Hauiti has gone to ground because party officials have advised her to get intensive training on how to deal with the media scrutiny she is likely to face.
Prime Minister John Key said Ms Hauiti would add a new dimension to the National caucus.
"She has a colourful history, as we know. She's been proven as a broadcaster and a communicator. We've seen her over the years when she's been campaigning and she'll be a good addition to the team."
He also said National supported Mr Gilmore making a valedictory speech or a personal statement, and was not concerned that it could be used to pay back people who the MP felt had wronged him.
"He can put in his speech what he likes," Mr Key said.
Mr Gilmore will need to seek leave to make a personal statement in Parliament today. The Labour Party said it would not object to the outgoing MP addressing the House.
Yesterday, the MP was alleged to have sent text messages - possibly dozens of them - which appeared to threaten the recipients.
Blogger Cameron Slater posted a picture of a message Mr Gilmore sent to an unnamed person which said: "Utu - you should learn what it means." Utu is Maori for revenge or payback.
One of the texts was sent to lawyer Andrew Riches, who wrote an apology to the hotel where Mr Gilmore had a dispute with a waiter on April 27.
Mr Riches also released a public statement which accused the MP of misleading the Prime Minister's office.
Yesterday, Mr Key said he would be "amazed" if reports that former National Party campaign manager and controversial consultant Simon Lusk had counselled Mr Gilmore to resign were true. He said he did not have anything to do with Mr Lusk.