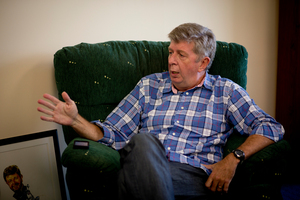 Newly popular politician Maurice Williamson has told the producers of the Ellen DeGeneres show that he won't make an appearance if the focus is on him.
Three weeks have passed since the National MP was first offered a spot on the hugely popular US talkshow as a result of his now famous "big gay rainbow" speech in Parliament when a law allowing same-sex marriage was passed last month.
After confirming with the Prime Minister that he was free to be a guest on the gay American comedian's chat show, Mr Williamson began organising his visit - but those plans have stalled.
Today, Mr Williamson said he and the show's producers had so far failed to find a compromise about the subject of his appearance.
"I do not want to do the show if it's only about me," Mr Williamson said.
The minister said he wanted his appearance to focus on New Zealand - a proposition that has not been completely accepted by DeGeneres' team.
He said he had spoken to DeGeneres' producers in the last two days and while negotiations were "very pleasant and very amicable", he had told them he would not make the appearance if it was only "about me".
"I'm keen for it to be about New Zealand and being a tolerant society and try and portray that we voted for gay marriage and then went and had dinner, whereas in France they had riots in the streets and so on," Mr Williamson said.
"But they are keen for it to be about me and want me featuring and dancing, and I kept saying I don't want it to be about me.
"They said 'We're about people, not about countries'."
Mr Williamson said he wanted the opportunity to sell New Zealand to homosexuals around the world as an attractive country to visit.
"The gay community in most western countries have way higher disposable income than the heterosexual community, that's because they haven't got kids vacuuming their wallet out. It would be phenomenally good to have them come as tourists here - they'll spend money way more than others in the restaurants and hotels ... and I just think New Zealand's got a lovely story to tell.
"We're a tolerant society and Tourism New Zealand has given me some fabulous high-definition pictures [to be shown on the DeGeneres show]."
Mr Williamson said exposure to DeGeneres' audience of "800 million worldwide" would be "worth more than the $150 million that [Prime Minister] John Key has announced for tourism spending over the next four years".
Mr Williamson said he would continue to negotiate with the talkshow producers and any appearance would not been until next month or July.
"We are close but I think my concern is that if I went on there and did some dancing or whatever, that will be the clip that plays to the domestic audience and everyone says 'Who does he think he is?'.
"If I was to go on a show like that I know that if I did something weird or whacky, dance or whatever, it would be that clip that would be used [on the news] forever.
"That would be to no benefit for anybody, including myself."
- APNZ