State-owned Solid Energy cuts 100 jobs and works on recovery plan to show Govt.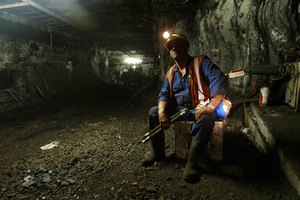 The Government is prepared to let Solid Energy fail if the company can not come up with a viable recovery plan, says Finance Minister Bill English.
The indebted state-owned enterprise announced more than 100 job cuts yesterday and is working on a survival strategy which will be assessed by the Government and banks before the middle of the year.
Solid's chairman Mark Ford said he had "total confidence" its revamped business plan would be acceptable to the Government and banks. English said he was looking for a pragmatic solution that did not involve a taxpayer bailout.
"We're an owner of it and will be there to support it if there's a viable business but we'd expect others like the banks to participate in the restructuring. We've made it clear we wouldn't expect taxpayers to carry all the costs of restructuring," English said.
"If it's not viable we're not going to create a business that doesn't exist just so we can subsidise it."
Ford said the plan could involve new capital or altering the terms of the loans from banks, the BNZ, Westpac, ANZ and Bank of Tokyo.
Debt remains at about $390 million in the company which was hit hard when coal prices dropped over the past 18 months and by the cost of an expansion programme away from its core business, coal mining.
Revenue this year was forecast to be about $640 billion, down by about a third on last year, but Ford said it was covering costs. The company was aggressively attacking all costs and cuts to 105 head office and technical support staff would save about $18 million a year.
Staff numbers by mid-year would be about 1000, a third down on what they were last year, and average salaries would be cut.
Ford said Solid Energy was still at the mercy of international coal prices - which remain depressed - and the continuing high value of the New Zealand dollar.
"We believe as a board there's a good future for the business."
He said it was a "very different company" to what it was a year ago.
Restructuring to save it from going into receivership, which he admitted it came close to, meant that jobs had to go.
The company's future will be focused on core coal mining.
"That's the best chance we have to move back into profit in the intermediate term," Ford said.
"There's always a future for coalmining. We just need to be a hell of a lot more efficient."
The business is now covering its operating costs, he said.
But he added: "The business is still a challenge and we have to keep focused on generating cash and reducing operating costs," he said.
"I want to emphasise again, this optimisation does not affect mine operating staff - this is support staff and corporate staff."
They will have to downsize and move out of the Christchurch corporate headquarters. Ford would not rule out more job cuts.
The announcement would not affect the plan to reclaim the drift at Pike River mine.