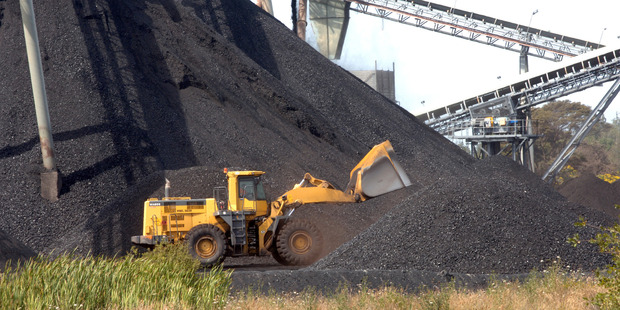 Solid Energy has confirmed it will shed 105 jobs as it restructures in a bid to stay viable.
The company said the cuts came as it continued to work with its funding partners and with Treasury in refocusing the company on its core coal mining business and divesting non-core assets and activities.
"The company has entered into consultation with staff on a change proposal which would see roles based in or reporting into its Christchurch office, cut by just under half from 234 (139 roles in Christchurch and 95 at regional sites) to 129 roles (87 and 42 respectively) resulting in a net loss of 105 roles (52 in Christchurch and 53 at regional sites).''
Solid Energy chairman Mark Ford said that company's funding partners and Treasury were undertaking a wide-ranging review of all parts of the business with a view to confirming the best strategy and structure for the company's long-term future which would see the company focus on its core coal mining capability.
The company expected to confirm the company's business model and strategy by the end of June.
"Staff in the company, particularly those who work or report into Christchurch, have had many months of uncertainty and we know that continues to be really difficult for them. We've made the decision to move on this change proposal now so that we can start to give these staff some clarity about their future,'' Mr Ford said.
"The proposal for a new corporate office structure is designed to support a refocused coal mining business which is appropriate for a coal company with our turnover, is consistent with others of a similar size in our sector and which is affordable for the business.
Some activities and operations had already been cut and the company was divesting other parts of the business, as well as surplus assets, including the Nature's Flame wood pellet business which would go on the market shortly.
"While the underground coal gasification and lignite conversion still have potential, Solid Energy is no longer in a position to be the lead sponsor of major capital projects and we are looking to transition and divest these projects to entities which have the capital, experience and appetite to progress them. The company's financial situation also means that it is unlikely that we will be able to undertake any significant new coal development projects,'' Mr Ford said.
The company is now consulting on the proposal with potentially affected staff and expects to confirm the final structure for corporate staff based in and reporting to the Christchurch office by late May.
West Coast-Tasman MP Damien O'Connor said he was sympathetic with the loss of jobs in Christchurch but the remaining corporate staff should now be moved back to the Coast, which still accounted for the bulk of Solid Energy's business.
"It's very unfortunate but there have been a lot more than that laid off in the West Coast community.''
Earlier today, Finance Minister Bill English questioned Solid Energy's viability and suggested the Government might not rescue the teetering company.
State-owned enterprises (SOE's) could not expect to be propped up, Mr English told Radio New Zealand.
Solid Energy, which has debts of around $400 million, was the SOE which most worried him.
"Their particular mix may not be viable. We have to look at whether they can be restructured or whether, in the long run, there's a viable proposition there.''
Labour's SOE spokesman Clayton Cosgrove told Morning Report it was "bizarre'' for the Government to run Solid Energy into the ground through lack of oversight and negligence.
"The question now, is whether the Government will reverse its position because Mr English has previously said he would not allow it to go into receivership and, through their own negligence, let it go down the gurgler. That means more taxpayer money, more job losses.''
Mr Cosgrove said Mr English's comments were the first suggestion the Government might allow Solid Energy to tip over.
The Government was supposed to work as the shareholder with the board to ensure state-owned assets stayed viable, he said.
The West Coast is already reeling from Solid Energy cuts.
Stockton mine has lost more than 250 workers since the company hit dire straits last year. The News is seeking the latest workforce figures.
Solid Energy also axed 225 jobs at Spring Creek near Greymouth.
Another 63 jobs went at Huntly East, in the North Island, last year.
Solid Energy's former chief executive Don Elder resigned in February but remains on the payroll while he works out his notice.
Solid Energy's woes, and appeals against Bathurst Resources proposed Denniston Escarpment Mine, have prompted the establishment of a new lobby group in Buller.
Environment West Coast aims to promote and stimulate economic growth, initially by making the case for coal mining.
- APNZ, Greymouth Star, Westport News