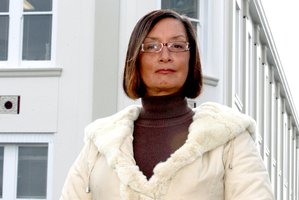 Former MP Georgina Beyer says she is struggling to accept she has chronic kidney failure.
But she is vowing not to let the disease bring her down completely.
The 55-year-old - a former Labour MP and Mayor of Carterton - revealed in Woman's Day that the illness was diagnosed during a recent routine check.
"When I was told the news, I was numb. I was in disbelief," she told the magazine. "The first thing I said was, 'But I don't drink'!
"It's just one of those random things. It's chronic, and only a kidney transplant or dialysis four times a day will save me," she said.
"This health issue has blown it for me and has cast a huge shadow. I'm trying to absorb the news and figure out how it will impact my life."
Ms Beyer hit world headlines when, in 1999, she became the world's first transsexual member of Parliament.
Before her stint in Parliament, which lasted for eight years, she had been a respected member of the Wairarapa community.
Her popularity saw her elected into the position of mayor in the small town of Carterton.
Later, she kept a low profile and took up a job as an assistant at a local Michael Hill jewellery store.
In 2010 things looked up for her when she decided to run for Carterton mayoralty yet again. But, unable to come up with the $10,000 needed for her bid, she hit rock bottom.
She lost her job, was forced to sell her house and was officially on the dole.
Before receiving news of her kidney condition, Ms Beyer had been gearing up to make yet another political come-back this year, hoping to run for the Wellington mayoralty.
Friends of Ms Beyer last night said she was too tired to give interviews.
Her disease is the same one that has crippled All Black legend Jonah Lomu over the years.
She told the magazine that she was willing to work hard to look after herself.
"I'm going to be positive and proactive ... I've had to accept that I'm only human and not this indestructible creature.
"I have to accept it and be responsible - like I have done with many other obstacles in my life."