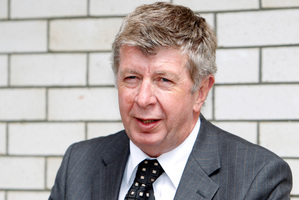 The Serious Fraud Office will not prosecute anyone over the collapse of Hanover Finance because ... well, it's too hard.
Wrongdoing "had to be proved beyond reasonable doubt and other finance company cases had shown how difficult it was to achieve that standard", according to acting SFO boss Simon McArley.
I'm not convinced that shrugging your shoulders and saying; "Willikers, isn't it awful, but what are you going to do?" is an adequate conclusion to the 32 months and who knows how much money the SFO spent on this investigation.
It seems the office agrees that there probably was something a bit odd about the disappearance of more than half a billion dollars but, you know, things go missing all the time.
"Don't come around here bothering us with your serious fraud allegations," they appear to be saying. "Do you have any idea how hard it is to sort out those messes?"
Perhaps they should set more achievable goals and rename themselves the Slightly Tricky Fraud Office.
Not everyone shares my view. "It takes a long time to go through a long process. They did an extraordinary job. It was very in-depth," agreed SFO fan, Hanover investor and someone who knows the value of a dollar, Mark Hotchin.
"I would have thought that you would take some comfort from knowing there was no criminality, there was no theft or any wrongdoing," he went on to say.
Whether or not there is any "comfort" to be had in this decision is probably a question better put to other investors who lost most of the money that disappeared when Hanover went down.
There is one indisputable downside. This decision gives comfort to the paranoid conspiracy theorists - and I hate to see paranoid conspiracy theorists comforted - who believe the old boys' network is alive and kicking, or rather, in this case, alive, lying down and playing dead.
Because on the day the SFO announced their inability to do their job, the principals of the Switched On Gardener shops were each jailed for several years.
The usual left-leaning suspects on social media got all pious on it, with slavering posts pointing out a perceived inconsistency between the two results.
But the comparison between Hanover Finance and Switched On Gardener is hardly fair. One organisation takes money from people to feed their addiction, one that destroys lives and encourages immoral behaviour. The other supplies bibs and bobs for growing dope.
Maurice Williamson isn't sure whether or not he's going to be on TV show Ellen to be feted for his cool gay marriage speech.
I'm sure.
"They've got to schedule shows and all that stuff so we've got to wait and see what they come back with, whether they say 'come over' or not," said a Williamson spokesman.
The technical name for this is "Don't call us, we'll call you". Perhaps when the invitation was made and the show's producers were told Maurice would have to see whether he was allowed to take a free trip, they went to the next person on their potential guest list; someone who wouldn't dither around, such as Michael Buble or Katy Perry.
It's a pity, really, because anything that would eat into time available for Williamson to plan a tilt at the Auckland mayoralty is okay by me.
It's finally become obvious why I've never been invited to run a giant multinational dairy company.
Because, if I were in charge of one and we were planning to introduce new milk bottles, making sure they were recyclable would definitely be near the top of my to-do list. How thick am I?
Debate on this article is now closed.