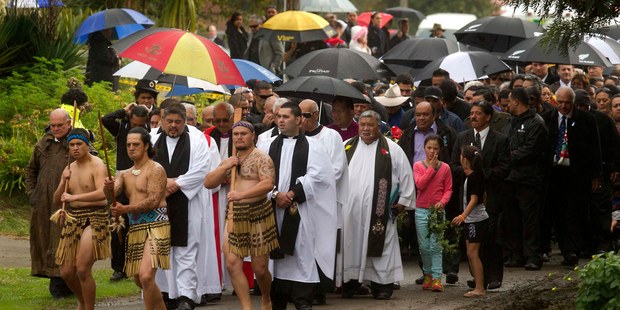 Labour MP Parekura Horomia's funeral service ended after two hours of waiata and eulogies that were a mix of emotion, love, and humour.
His body has been taken from Hauiti Marae to the urupa for his burial, his final journey marked by strong, emotional haka and guards of honour. His family and friends have taken his coffin to the nearby Kohimarama urupa where he will be buried beside his mother.
The service follows the four day tangi, during which leaders of most iwi and MPs and former MPs from all political parties have attended.
Mr Horomia's oldest son has given a poignant eulogy at his father's funeral today, telling amusing stories about his father from his childhood and Mr Horomia's later political years.
Desmond Horomia spoke about his father's illness, saying he was summoned to the bedside.
"He said, 'I leave you in charge.' So I said, 'you have to take your medicine then.' And he said, "I'm taking it back away.
You're not in charge anymore."
He said his father had been a "beautiful man and a wonderful father" who had put his children in good stead for life.
He also spoke about his mother, Gladwyn, who died of cancer in 1993.
"People talk about my father being the 'chief.' Well, back at home he was never the chief. My mother was."
He said Mr Horomia's political career meant he had not spent much time at home.
"We gave up our father quite a long time ago, so could do his mahi [work].And we were happy with that because we knew what he was achieving."
He pointed to the signs of that being at the tangi, thanking those who had attended over the last four days. "We've had kings, CEOs, and the window cleaner from down the street. He didn't care who you were, he'd put you at the table with him. Or chuck you in his ministerial limo and take you for a ride, but I shouldn't have said that."
He said the children had told Mr Horomia it was time to quit politics and return home for a break.
"Well, he's home now. He's finally got his break."
Mr Horomia was a Labour MP - but those giving eulogies included his cousin Rawiri Ruru, who was a Maori Party supporter, and Sir Wira Gardiner, a National Party member whose wife Hekia Parata is a Government minister and related to Mr Horomia.
Sir Wira recalled Horomia's days of dieting, when he would invite him round for dinner and Horomia would check whether Ms Parata would be home before accepting because he knew Ms Parata would insist he stuck to his diet.
Sir Wira said Mr Horomia had struggled with health issues about ten years ago and was told by his specialist that if he did not address his weight issues he was likely to die before Christmas.
When Christmas came, Mr Horomia rang the doctor and said "kia ora Chief - I'm still here." After that, he called the specialist every year at about the same time to tell him of the same thing.
Former Prime Minister Helen Clark has paid a tribute to Mr Horomia, sending a statement to be read out at his tangi service today in which she described his death as a "Maoridom's loss and our nation's loss."
Miss Clark could not attend because of a prior commitment to be on a panel with Germany's Chancellor Angela Merkel in Hamburg. She told his family that she hoped to visit his grave to lay flowers when she was next home and sent a statement to be read by a close family friend of Mr Horomia during his funeral service today.
She said it was a "huge regret" that she could not attend the service personally and spoke of her reliance on Mr Horomia for advice on Maoridom and Maoritanga.
"Parekura was infallibly a source of good advice and insights."
Mr Horomia was Maori Affairs Minister from 2000 to 2008 under Miss Clark's Government. He played a critical role during the passage of the Foreshore and Seabed Act, which he led despite being urged to leave Labour over the issue.
She said he had worked tirelessly for his electorate and Maoridom.
"It was a measure of the man that while he spoke directly and had strong views, he appeared not to have an enemy in the world. His basic decency, honesty and integrity impressed all who met him.
Parekura's lifetime was too short, but he made the most of every minute of it. His boundless energy, and his commitment to his work and to public service in the broadest sense, were legendary."
She also spoke of what Mr Horomia had meant to her personally, saying he was a "very good friend and colleague."
"It is hard to believe he is no longer with us. He will be greatly missed by me.

"Rest in peace, Parekura. It was a privilege to have been your friend and to have worked closely with you. Your humanity and generosity will never be forgotten."
Those at the tangi include Labour leader David Shearer and many other Labour MPs and former MPs as well as Speaker David Carter, NZ First leader Winston Peters, Mana leader Hone Harawira and Green Party co-leader Metiria Turei.
In the lead up to the service, Ngati Porou elder Sir Apirana Mahuika spoke about Mr Horomia, telling of the time Mr Horomia had sought his counsel on Helen Clark's offer to be Maori Affairs Minister in 2000 - just a year after Mr Horomia had gone into Parliament.
Sir Apirana told him he would be following in the footsteps of another Ngati Porou great, Sir Apirana Ngata. But he told him not to fall into Ngata's shadow. "You create your own shadow, and it will be a massive one."
His funeral will be followed by the traditional funeral feast, the hakari.