Party looks to Jones to take over many of Horomia's responsibilities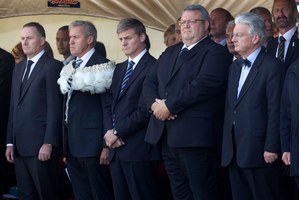 The man who usually walked alongside a Labour leader on to a marae was not there this time. Instead, Labour's leader and his caucus were going on to a small marae in Tolaga Bay to farewell him.
It was Parekura Horomia's colleague and close friend Shane Jones who took the role alongside Shearer. So began the shifting of the balances within Maori politics as Labour's kaumatua was laid to rest.
The impact of Horomia's death will go further than simply selecting another candidate in his Ikaroa-Rawhiti electorate. Although Horomia's influence was not well known outside Maoridom, he was a potent force within Labour and Maori.
The first sign of the changes that will start to slot into place was in Shearer's companion: Shane Jones. Jones does not take counsel from many people. But he did take it from Horomia. Now he will be Labour's most senior Maori MP and expected to step in to more of the responsibilities his friend had taken.
Jones was already one of the most public Maori faces for Labour, his rhetorical flourishes and ease with the media ensuring he was sought out. Horomia's value was less public, at least among Pakeha New Zealand, but was more critical to the Labour Party. He was a crucial bridge between Labour and Maori.
There are two schools of thought on what will happen in his electorate.
One is that Labour is almost certain to win a byelection, not least because of the circumstances in which the vacancy arose. The other, the argument usually put forward by Labour's rivals, is that Horomia was there courtesy of his own personal popularity rather than the party under whose banner he stood.
The byelection will test that to a limited extent but unless Labour stands a real clunker of a candidate, it is unlikely to lose.
In the sad aftermath of his death, a significant part of the loyalty he held should transfer to his successor.
Horomia's hold on the seat has been tested in the past, most notably after the Maori Party formed. That he held on in 2005, despite being the minister who took charge of the Foreshore and Seabed Act, was testament to his personal appeal and happened in spite of, rather than because of, his party allegiance.
His 10,000-plus majority of 2002 was stripped back to under 2000 in both 2005 and 2008 after the Maori Party set up. However, the Maori Party was at the peak of its own popularity then. Last election, he had built it back up to a convincing 6541, voters apparently alienated by the split of Hone Harawira from the Maori Party.
But many believe Labour cannot afford to take the seat for granted and that it will come down to the candidate.
Tamaki Makaurau is an urban electorate where the iwi lines are not such a factor. Te Tai Hauauru has 17 iwi of relative significance, rather than any dominating single iwi.
However, the Ikaroa-Rawhiti electorate is dominated by two iwi - Ngati Porou and Ngati Kahungunu. The relationship between them is somewhat similar to that between New Zealand and Australia: friendly but fiercely competitive. So when Ngati Kahungunu arrived en masse to perform strong waiata in response to their speakers at the tangi, it prompted one admiring Ngati Porou to observe they had performed well: "Outstanding. They could almost have been Ngati Porou. Almost."
That means when it comes to choosing candidates, parties will be acutely aware iwi is more important than party to many of those voting. Horomia showed the person trumps both, but all the credentials and good humour in the world will not be enough if that candidate does not have the whakapapa and reach on the ground to match.
The Maori Party will contest the byelection, but will be hampered by its own leadership issues including Te Ururoa Flavell's challenge of Pita Sharples, and the need to select a new female co-leader to replace Tariana Turia. Neither of those issues is likely to be resolved before the byelection, although the party will meet a few months earlier than its usual AGM to try to sort it out. It will not help their cause that the leadership of Sharples, who is Ngati Kahungunu, is under threat.
It will also have to find the right candidate. It's unknown whether their 2011 candidate, Na Raihania, wants to stand again, or if the party is interested. But he was a strong candidate with deep whanau and personal links through the electorate. Importantly, he also has some experience in campaigning and that can be critical in a byelection for which there is far more intense scrutiny than general elections, as the Maori Party found out to its detriment when it stood political novice Solomon Tipene in Te Tai Tokerau.
Byelections are costly exercises, especially for small parties. But even if there is only a slim chance of taking the seat, there is value to both the Maori Party and Mana in the exercise.
Horomia's argument for staying with Labour rather than crossing the floor on the Foreshore and Seabed Act was that he believed it was better to effect change, or at least ameliorate the damage, from inside.
It is the exact same argument the Maori Party puts forward now to defend its support arrangement with National. It will have some advantages Labour does not. There will be a Budget between now and the byelection and although the pickings are likely to be slim in these frugal times, they will at least have something concrete to show off on the campaign trail.
However, Labour is yet to announce the bulk of its new policies, giving its candidate little to campaign on beyond attacking the Government's record and its new power policy, which could resonate in the more poverty-stricken areas of the electorate.
For Mana, the byelection will coincide with leader Hone Harawira's Food in Schools Bill for free meals in low-decile areas and give them a platform to promote it from.
So win or lose, with little more than a year to go before the next election, both the Maori and Mana parties will take the opportunity to parade their feathers.
The tangi at Hauiti Marae served to emphasise both how popular Horomia was in Maoridom and how difficult it will be to replace him. On and on they came, in their hundreds, from the top of iwi hierarchy to the fencers he worked with, school kids, staff from before he went to Parliament. Even the National MPs had Parekura anecdotes. One recalled a tale he told about getting stuck behind the paddy wagons during the Bastion Pt protests. He used the time effectively, letting the air out of the tyres.
Next time New Zealand is hosting a major sporting event it might want to simply call in the Hauiti Marae organisers, who with two days' notice managed to pull together enough food to feed hundreds every day for more than four days. Welcomed as the white Tory version of Parekura, Gerry Brownlee was sent home with a crayfish wrapped in foil under his arm. Not a sheep in the district was safe, but the people were fed.
Today Horomia is buried in the urupa next to the Tolaga Bay marae. After that, his fellow politicians will turn to the political fallout.