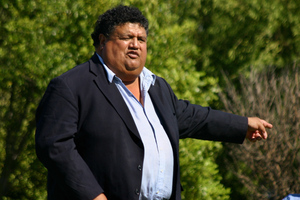 Speculation has begun on who will contest the Ikaroa-Rawhiti byelection for Labour after the death of Parekura Horomia.
It is understood Mr Horomia had spoken to Hayden Hape, who is on the Ngati Kahungunu governing board, about succeeding him in the electorate.
Labour leader David Shearer said a few "good people" had put their hands up, but the party wanted to mourn Mr Horomia before it considered the byelection, which is likely to be held in about seven weeks time.
Labour MP Shane Jones said it was important for the party to find a person to "carry on Parekura's legacy. And that will be a challenge." He said Mr Horomia had spoken to several people about succeeding him.
"Pare was a great person who reminded everyone of the importance of succession planning and there were several people he had been discussing."
Mr Shearer said it was possible Mr Horomia had looked for a successor.
"What I would like to do is have a look at who is around. Obviously Parekura's recommendation is hugely important, but we want to have a fair process like we always do."
It is understood one of those Mr Horomia favoured was Mr Hape, from Dannevirke and in his mid-30s. Mr Hape told the Herald he did not want to comment because it was a time to farewell Mr Horomia.
Other names mentioned have included Meka Whaitiri, the chief executive of Ngati Kahungunu, who worked for Mr Horomia when he was Minister of Maori Affairs. She is believed to be reluctant to stand.
Mr Horomia had also spoken to Te Karere presenter Scotty Morrison about running - but Mr Morrison said he was not interested for now because he had a young family. He ruled out the Ikaroa-Rawhiti byelection because he did not have the iwi links.
"I think they will be looking for someone who is tribally connected. It would be very hard to try and win that seat without being connected."
Mr Jones said it was almost certain to be a person who had the right iwi links for the electorate, which is predominantly Ngati Porou and Ngati Kahungunu.
Former Labour MP Dover Samuels said Labour should pay heed to what Mr Horomia had wanted.
"He did tremendous work for his people, and really Labour has to take direction from him in terms of his legacy. Not only was he a big man with big boots to fill, so was his mana and he talked a lot with some about the fact he hadn't completed his dreams and what he wanted."
The Mana and Maori Parties are waiting until after the tangi ends on Saturday to decide whether to enter the byelection and if so, who to stand.
Read more: Dignitaries, politicians, friends recall their memories