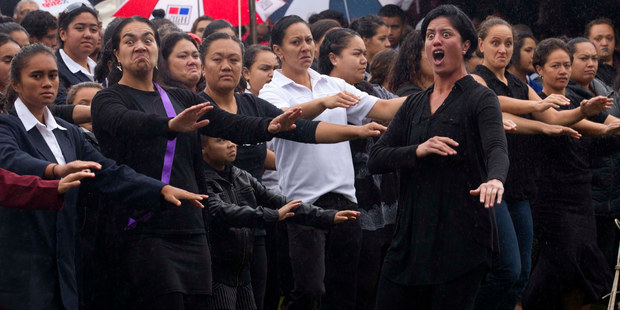 Heartfelt wailing was the backing track as the body of Labour MP Parekura Horomia was brought onto Hauiti Marae in Tolaga Bay this morning.
Just before 10am, an honour guard formed by mourners outside the marae fell quiet after a call that the former Maori Affairs minister's cortege was just minutes away.
But when he arrived at the gate with more than eight pallbearers, the mood turned electric.
College students from Lytton School, Gisborne Boys and Girls Highs led the haka powhiri as the feather-cloaked coffin moved past them to the whare Ruakapanga, where it will lie for the next five days.
In the middle of it Derek Lardelli, a haka exponent, exhorted mourners to move quicker so that the 1000 or so people gathered could fit on the marae.
Watching on, one local shook their head and said: "They keep coming, and this is just the start of it."
Prayers were shared on the marae this morning ahead of the arrival of Mr Horomia's body.
The Te Aitanga a Hauiti padre said prayers of encouragement and strength for the home people who will host the thousands of mourners until Saturday.
Another organiser told people to turn to their next door neighbour but not to hongi them or shake their hand but instead to give them an awhi or hug.
Hundreds gathered before 9am in the large marquee outside the marae to wait for Mr Horomia's arrival as the rain bucketed down.
Labour MPs and former MPs also arrived for the tangi.
The party chartered a plane from Auckland to fly MPs, including Labour leader David Shearer, Phil Goff, Annette King and Maori MPs Shane Jones, Rino Tirikatene and former MP Dover Samuels.
Other former MPs who travelled for the tangi included Margaret Wilson, Pete Hodgson and Kelvin Davis.
The Labour group, wearing red roses, were to be welcomed on to Hauiti Marae after midday.
Mr Shearer returned from a trip to the United States early and said he was devastated by the news.