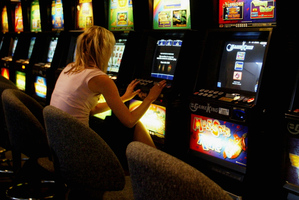 Pokie machine expenditure in the country's 1367 pubs and clubs dropped four per cent in the year to March, and 10 per cent on the last quarter of 2012.
The figures, released by the Department of Internal Affairs, also show there were fewer licence holders, gambling venues and gaming machines at the end of March compared with 12 months earlier.
Licence holder numbers fell from 359 to 353, venue numbers dropped from 1403 to 1367 and the number of gaming machines from 18,001 to 17,542.
For the 12 months ending March 2013, expenditure was down four per cent from $865.4 million to $828.7m, and spending dropped from $214.6m in the fourth quarter of 2012 to $192.7m in the first quarter of this year.
Problem Gambling Foundation chief executive Graeme Ramsey believed the decline was largely due to people's growing awareness of the harm caused by pokies.
"What it's telling us is that the trend that we've seen for some time - albeit with a couple of minor blips - is still continuing,'' he said.
"From our point of view that's good news and I think it's indicative that people are more aware of the dangers that pokie machines pose.
"The issue for us is we know that at least 40 per cent of the money that is lost on machines comes from people who are at risk or who have problems, and about 70 per cent of the people that we see have problems with pokie machines, not other forms of gambling.''
The amount spent on other forms of gambling, like sports betting, was increasing, so the total amount gambled in New Zealand each year remained static at about $2 billion.