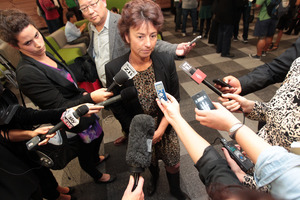 Is New Zealand a racist country? That was the debate last week on TV3's The Vote programme (which you can watch here). The debate ended with an almost 2:1 majority of viewers agreeing that we do live in a racist country (although David Farrar quite correctly points out that the results need to be seen for what they are - see: It's not a poll). The discussion continues this week in the media and blogosphere - especially in items like Susan Edmunds' We're not racist, but..., and Heather McCracken's Migrant groups claim NZ not racist country despite poll. And although the new Race Relations Commissioner, Susan Devoy, sat on the fence on the night of the TV3 debate and made some strange comments (New Zealanders should feel 'ashamed that they perceive themselves as a racist country"), she has now given a more coherent and strident speech - see Amy Maas' Dame Susan Devoy: Racism shames Kiwis.

Certainly, if most New Zealanders think their society is racist then it's probably not surprising that Devoy is feeling the heat. She has also hit back at her critics, saying it was unfair that she had been 'pre-judged' - see: Chloe Johnson's Emotional Susan Devoy hits out at 'unfair' critics.

While much of the original criticism centered on comments she had made before her appointment, a recent talk at a Hamilton fundraiser won't have re-assured her detractors: 'When asked about the nature of her work by the MC, Dame Susan responded with the line "same s***, different day"....
Another disgruntled guest said Dame Susan had described her Wellington staff as "difficult", before making an off-colour joke about men with sausages in their pockets"' - see TVNZ's Dame Susan Devoy's speech labelled a 'train crash'.

The audience at the Ethnic People's Advisory Panel conference (where Devoy gave her latest speech) certainly agreed with many examples given of discrimination on both personal and institutional levels. Employment was the number one problem: 'Dennis Maga, co-ordinator of First Union's union network of migrants, pointed out that the job market in the retail sector was heavily racialised. "Some popular companies go to the United Kingdom every May to recruit managers. Who has the power to discriminate? Those in charge," said Maga. His union had found that many retail stores employed white South Africans as managers, with Filipino, Fijian and other workers of colour only being given lower level jobs' - see Anna Majavu's NZ 'racist' but views divided over power of Kiwi gatekeepers.

One positive is that younger generations appear to be more tolerant and generally we are, at least, 'more polite about their racism than people in other parts of the world' - see Susan Edmunds' Younger Kiwis more enlightened. That won't apply to the members of Right Wing Resistance who are making a Call for New Zealand to cut ties with China. You can see one of their flyers at Kiwiblog: The xenophobic nutters at work. Farrar makes the point that politicians who target Chinese investors but not those from other countries 'give solace to these people'.

This underlines that point that these days the area in which racist politics are probably most visible is in terms of globalisation - issues of immigration, trade, investment and refugees. For some facts and analysis of foreign investment, the New Zealand Initiative has just published Bryce Wilkinson's report, New Zealand's Global Links: Foreign Ownership and the Status of New Zealand's Net International Investment (PDF), which David Farrar has summarised here: Facts and myths on foreign investment. And for a examination of New Zealand's racist immigration control's, see Mike Treen's What can history teach us about how to treat refugees?

Education sector is one of the areas where issues of race and ethnicity are most strongly fought out, and at the moment the Government is looking to establish the Te Pa o Rakaihautu school in Christchurch, which Pita Sharples leading the process - see Charley Mann's Talks under way on Maori school. And culturally, race and ethnicity is still a sensitive area for artists, and Dick Frizzell has been on the receiving end of accusations of complaints for his use of Maori imagery in his art - see Yvonne Tahana's Mickey to Tiki still causing stir.

In our increasingly secular times, race also plays an important part in giving the modern New Zealand state a religious or spiritual dimension - especially with the increasing use of Maoritanga as a sort of unofficial state religion (witness the use of powhiri, hikitapu rituals, and karakia in state functions). In this regard, The Press' Martin Van Beynen has recently penned a controversial column, Myths have no place in law. He says, 'While people with deeply held religious beliefs are justifiably held to be somewhat simple if not deranged, the myths and supernatural ideas of indigenous people like Maori are still given a surprising and patronising respect by those who should know better'.

Others think instutitionalised racism will get a lot worse, especially if the Treaty of Waitangi is given more status in our constitutional arrangements. The coalition agreement between the Maori Party and National to set up a Constitutional Advisory Panel was problematic from the start writes Adam Dudding in Talking 'bout a constitution. In this, Chris Trotter is quoted in the feature article making the case against constitutional reform, especially because 'Constitutional change that's of any worth only ever occurs because it is something that large numbers of people want and are willing to organise themselves to get', and instead the Government's Constitution Review is a top-down process that few in society are interested in.

Dudding also says the two parties apparently had very different expectations: 'When Sharples and English announced the finer details in December 2010, they might have been launching two totally different ships. Sharples leapt right into a stern history lesson about the place of the Treaty. In English's speech, the Treaty was only the sixth of a long checklist of issues, behind thrilling stuff such as the size of parliament and the shape of electorates. It looks suspiciously like National has managed to water down the Maori Party's medicine'.

That watering down probably prompted the formation of an 'Independent Iwi Constitutional Working Group' by Margaret Mutu and Moana Jackson. But fears that the official group was 'racially stacked' led the conservative New Zealand Centre for Political Research think tank to create its own Independent Constitutional Review Panel chaired by Canterbury law lecturer David Round, 'with the goal of heading off the Maori Party plan to "give the tribal elite supreme power in New Zealand". (You can watch Round and Te Ururoa Flavell discuss the issues on Q+A)

If Susan Devoy could just reconcile the views of those three panels she would silence most of her critics. But, perhaps it'd also be handy is she could stop people from pronouncing 'racist' as 'ray-schist' - something that is bemusing blogger Jackson James Wood - see: Ray-schist.

Other recent items of interest include:

The power play continues with John Armstrong backing the political necessity for Labour's staunch approach to electricity reform: 'The policy presents a clear alternative. Labour will lose if it fights next year's campaign with the kind of insipid policies it used in 2011' - see: Labour's two fingers draw the battle lines. But Tracy Watkins thinks both Labour and the Greens underestimated the backlash, comparing it to the business-led 'winter of discontent' attacks on the Clark government's first term - see: Power play - there's a lot riding on it. Both columns are well worth reading. The NBR also has two other interesting perspectives - Rodney Hide's It's the market, stupid: that's how power works, and Rob Hosking's Why the Greens 'Hey, Clint' moment matters.

David Lange's legacy as the champion of our nuclear-free policy is coming under attack as a result of Gerald Hensley's new book. The latest claim is that Lange misled his deputy, his cabinet, the US and the Labour Party about his negotiations over ship visits - see the NBR's 'Friendly Fire' claims Lange didn't tell Palmer about US ship visit. See also, Audrey Young's Lange offered to quit over Anzus, and Selwyn Manning's In Defence Of New Zealand's Last True Statesman.

Getting accurate figures on Auckland's transport plans has been frustrating for Rodney Hide - see: Trains over buses - It doesn't add up. And John Roughan thinks getting the roads we have working better is the only realistic solution - see: It's the roads not the motorway. But Russell Brown takes both of them to task, Roughan for changing his tune on the Northern Busway and Hide for attacking an agency that he did more to create as the Minister of Local Government than almost anyone else - see: You can Roughan but you just can't Hide.

Will the rise of the Greens change the basic nature of our parliamentary politics? Matthew Hooton argues in his latest NBR column that the duopoly of New Zealand's two-party system has meant that until now we have had two major parties hugging the centre of the political spectrum, offering only bland options to voters. Utilising political science theories about the media voter model, and arguing that the continued rise of the Greens means we now have a real three-party system, Hooton suggests that the recent NZ Power policy was the just the first of many we're likely to see: 'more such radicalism should be expected, offering voters broader choices, so that the 2014 election may well be the first for many years to be more about policy than personality' - see: Two's company, three's a crazy. Also writing in the latest Metro magazine, Hooton has a scathing evaluation of John Key, saying that although he is 'the greatest political salesperson New Zealand has ever known', he has failed: 'by declining to set and communicate a clear agenda, he has been driven even more than most prime ministers by the media issues of the day'.

Finally, Ben Uffindel, author of the Colin Craig 'quoting' blog The Civilian, is profiled by David Fisher in Web satirist gets the last laugh. But if you want to know what sort of stuff Colin Craig says in reality, Pete George has compiled an exhaustive list of what Colin Craig said...