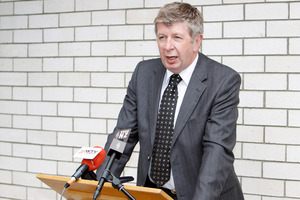 MAURICE WINS ONE
The great irony in Maurice Williamson's sudden gay icon status is that it all happened because he spoke his mind. This is a habit which hasn't always served him so well. Williamson's colourful turn of phrase and tendency to speak out was stomped upon by John Key when Williamson speculated during the 2008 election campaign on how much drivers might have to pay in road tolls. His frankness then got him turfed out of the Cabinet and he has never made it back in.
MOVE OVER AUCKLAND
Negotiations with SkyCity over building the national convention centre in Auckland are said to be continuing quietly, though things are going better for the casino company down in Queenstown. SkyCity, which now has control of Queenstown's casino, is also the preferred operator for the town's proposed convention centre. The project has yet to receive approval, but got the tick from John Key at this week's TRENZ tourism conference, where he signalled the government's support for convention centres, and singled out the Queenstown centre in conjunction with Christchurch and Auckland. With the Queenstown proposal motoring ahead of the Auckland project, perhaps it might just be easier to call the Queenstown version THE national convention centre.
LESS IS MORE
One of the arguments for amalgamating the Auckland councils was that it would reduce administration costs. But in one respect at least, this hasn't happened. Audit New Zealand's fees charged for the new council and its various entities totalled $3.1 million in 2011-12, compared with $2.6 million in 2008-09 for the group of 56 entities that made up Auckland's old local government structure. The Auditor-General reckons the cost will reduce ... but those charging fees often say that.
FACTS OF LIFE
Many people think the Greens/Labour power policy is politically driven, as opposed to being a serious investment policy. However, the Insider hears that several industries, particularly those with an ongoing need to attract large amounts of capital and invest in infrastructure (think agriculture, construction, transport, telecommunications, manufacturing and aviation, as well as electricity) have had the absolute bejesus scared out of them by the idea of the state setting prices. Their worry is the signal it sends to the overseas investors whose capital will be needed, as well as the precedent it sets for other sectors. While the NZ Power idea has struck a chord with many consumers (and after all, who doesn't like the sound of paying less for an essential service?), big business is looking for some clear direction from the Opposition as to how this policy would help infrastructure investment. Grant Robertson's statement that Labour had "no plan" to intervene in other markets is hardly reassuring. David Shearer and David Parker should have a chat to Helen Clark and Michael Cullen about when Labour was last in power. At that time the government faced the threat of a capital strike over much milder policy changes and had to tone them down. Politicians not only have to win elections, but they also have to govern and New Zealand is very reliant on investor capital.
TRADE TANGLES
The diplomats' dream of the Trans Pacific Partnership (TPP) agreement being a tight, "gold standard" trade deal is well and truly shafted with the "good" news that Japan has been allowed to join the talks. The original TPP strategy was to have only a few countries sign up, then, if any other big players came along wanting to talk trade, it could be pointed to as the model. It is similar to the strategy the Chinese have taken with New Zealand: if any developed nations approach Beijing, they can point to the NZ deal and say "here's what a trade deal looks like". Now that the TPP negotiations cover 12 countries including Japan, which is hardly known for its open trade policy, hopes for a deal by the end of the year look very much like wishful thinking. The talks are now almost as complex and political as the World Trade Organisation's Doha Round, with only a slightly better chance of getting a comprehensive deal done. It would be very nice if Japan's joining signalled a real change of heart, but it would be a brave bet.
MORE BUZZ-SPEAK
"Downsizing" is now firmly embedded in business jargon. Ditto "rightsizing", "outsourcing", "offshoring" and lots of other euphemisms. But "onboarding"? A press release this week from recruitment company Hays says onboarding is the word for making new recruits feel welcome, and giving them the tools and information they need to make a flying start. Does that mean that if things don't work out, the next step is "overboarding"?