Spotlight turns to when the Government could go ahead with planned selldown.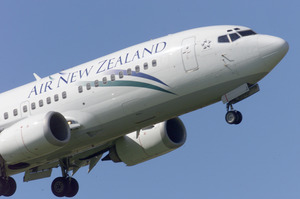 Air New Zealand's share price hit a five-year high yesterday, turning the spotlight on when the Government could go ahead with its planned selldown of its stake in the airline.
Following a forecast earnings upgrade, shares hit 153.5c at one point yesterday before easing to close up 8c for the day at 152c.
The airline forecast that normalised earnings before tax will be between $235 million and $260 million in the year ending June 30, up from $91 million a year earlier.
Air New Zealand said the outlook was based on "the current market conditions and trading environment".
The Government holds a 73 per cent stake in the company following a taxpayer bailout 12 years ago and has said it could sell down to 51 per cent as part of its mixed ownership model for some state-owned firms.
While it was expected to be sold down last, Air New Zealand's strong performance and the raft of problems selling Mighty River Power has turned attention back on the airline.
Executive director of Milford Asset Management Brian Gaynor said although there were no signs of movement to sell a chunk of Air New Zealand, some in the investment community had wondered why it was not first off the block.
"Air New Zealand would have been ideal, the only thing being it would have been so much less revenue for them. They wanted to get the electricity companies moving," he said. Selling 22 per cent of the airline at the current price could yield $370 million for the Government compared with $1.6 billion to $1.9 billion for Mighty River Power.
A sale would not require a prospectus because the airline was already listed on the sharemarket but given the Government's aim of attracting small retail investors the process would be more complicated than selldowns of other companies, Gaynor said.
An analyst at Craigs Investment Partners, Chris Byrne, said the timing of any sale was difficult to assess. "The Government's hands are pretty full, when, how, to whom I wouldn't like to speculate on, but this is no doubt a positive for the Government."
Forsyth Barr head of private wealth research Rob Mercer said it was not clear what the Government's goals were on the price for Air New Zealand.
In figures for March released yesterday, the airline said it carried 1.362 million passengers, 5.2 per cent more than a year earlier. Mercer said Air New Zealand was benefiting from the falling price of fuel, made cheaper by the strong dollar.