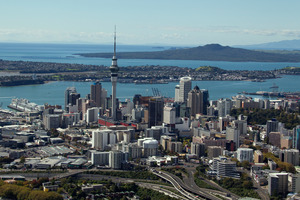 The Green Party has launched a campaign it hopes will convince Aucklanders to support the proposed City Rail Link.
The Greens, who have the backing of the Labour Party, want their Reconnect Auckland campaign to bring "tens of thousands" of people together to pressure the Government into helping build the rail link.
The campaign was launched yesterday at the Green Party's Auckland office, a potential site for the Karangahape Rd station once the link is built.
"The Greens were proud to have played an essential role in forcing the last Government to commit to electrification of the Auckland rail network, which was necessary to build the City Rail Link. Next step is the CRL," party co-leader Dr Russel Norman said.
"It is time for the Government to make the major investment needed in smart green transport solutions that Aucklanders want."
Labour's transport spokesman Iain Lees-Galloway said if his party was elected it would move quickly to build the rail project that "the city desperately needs".
"Auckland's motorways need to be freed up to allow the efficient movement of freight," he said.
"That can only be achieved by building reliable, regular and user-friendly public transport. The City Rail Link is a vital component of Auckland's public transport network."
In March last year Auckland transport estimated the CRL would take 5 years to build at a cost of $2.86 billion.
It would be built in two 3.5km long, twin tunnels up to 45 metres below the city centre.
The existing rail line would be extended underground through Britomart, to Albert, Vincent and Pitt Streets, then beneath Karangahape Road and the Central Motorway Junction and over to Symonds Street before rising to join the western line at Eden Terrace.
"The line would provide for three additional city centre stations in the vicinity of the Aotea Centre, Karangahape Road and Newton," Auckland Transport said.
- APNZ