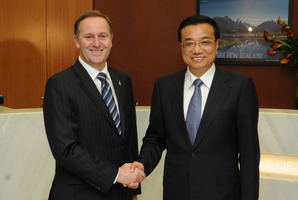 Prime Minister John Key rates his trip to China this week a "10 out of 10".
He achieved everything he wanted to out of it, he said before departing for home after a week-long tour with a delegation of business leaders, ministers and senior officials.
"They have really given us great access, they are totally committed to moving the relationship on, there has been a real opportunity to renew friendships and understandings with the new leadership team and we've announced things that will make a difference here.
"I think it's a 10 out of 10."
One of the tangibles he announced with Premier Li Keqiang on Wednesday was the introduction of a multiple entry visa of up to three years for New Zealanders doing business in China.
He also got the Chinese to agree to look at speeding up the approval of meat plants in New Zealand, to enable more beef to be exported.
Mr Key began his last day in China meeting Vice-Premier Wang Yang, then speaking to the inaugural NZ-China Partnership Forum.
Mr Wang described the meeting with Premier Li as the main course and the forum as "a beautiful dessert". The forum was organised by the NZ-China Council, which was set up to present a single cohesive entity for Beijing to deal with.
Also in keeping with the way China likes five-year plans, the New Zealand Government has set a China Strategy, with five goals including doubling two-way trade to $20 billion by 2020.
China is New Zealand's second largest trading partner after Australia. Yesterday, Trade Minister Tim Groser predicted China would become No1 within two years.