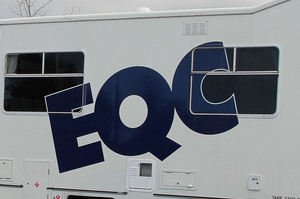 A permanent injunction against the publication of sensitive Earthquake Commission information might not be possible after it was posted online by a blogger, a legal expert says.
A New Zealand blogger last night posted a link to an offshore website containing the information, which the EQC mistakenly emailed to Christchurch businessman Bryan Staples two weeks ago.
The email contained EQC estimates of damage costs to 83,000 properties hit by the devastating Christchurch earthquakes.
The EQC maintained the information was commercially sensitive, and on Tuesday, it obtained an interim injunction from the High Court at Wellington.
The blogger said addresses and any other identifying personal information had been removed for privacy reasons and users would be able to search only by claim number.
EQC was considering its legal options and the matter had been referred to police and the High Court.
University of Canterbury law expert Ursula Cheer said the injunction was an interim measure and a final order would be made later this month.
She told Radio New Zealand the judge would look at everything in great detail, including the argument that "all the information is out there and it's too late to stop it".
"One of the principles in relation to injunctions is if they're pointless then they shouldn't be made, so that might be a reason for not making the order permanent."
Ms Cheer said the injunction applied to anybody who received the information, which was reasonably rare.
But she said EQC claimants simply looking for the information would not come within the terms of the injunction.
"The question is if they publish it to anyone else, and as I understand it, this information is all in one great block - it's not just broken down into separate parts applying to individuals."
Ms Cheer said somebody who retrieved their own information and then sent it in an email could also fall under the terms of the injunction.
"But it's not even clear that that might be the case. There are many legal issues arising here."
Ms Cheer said public interest could be used as a defence for breach of confidence.
Mr Staples today reiterated he was not the blogger who had published the information.
"I don't condone what he's done - I'm glad he's done it, but I don't condone it," he told TVNZ's Breakfast.
"There was a court order in place, and no matter as much as I disagree with the court order, nobody has the right to breach a court order."
Mr Staples said he did not know who the blogger was.
Asked where the blogger had got the information, Mr Staples said he did not know if it was the same document he had received because he had not seen the blogger's document.
"What I can say is that obviously there are good people inside EQC and they want this information out."
He said EQC was "exploding on the inside" and people had had enough.
In a lengthy post, the blogger outlined the author's views on the EQC and whether the leaked information was commercially sensitive.
Readers of last night's post were asked to use the information responsibly and told to "stay tuned for the next surprise".
Meanwhile, Privacy Commissioner Marie Shroff says a wide-ranging review of government agencies' handling of private data may be warranted to restore public confidence following a string of major privacy breaches.
- NZH and APNZ