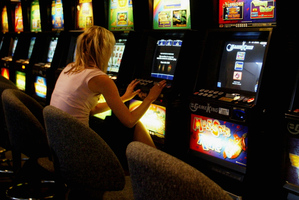 The Government has been urged to introduce facial-recognition technology for poker machines - which shut down games when used by a problem gambler - as part of an overhaul of gambling laws.
Maori Party MP Te Ururoa Flavell asked a select committee considering his Gambling Amendment Bill to recommend the introduction of the technology in pubs and clubs as a means of reducing the harm caused by electronic gaming machines.
Internal Affairs officials will today meet Hamilton company Positive Outlook to get a demonstration of the technology, which is used by Customs, and investigate whether it could be rolled out nationwide.
The bill would require venues to introduce gambling tracking systems which measured losses, and pre-commitment cards which allowed players to preset the time and money they gambled.
Mr Flavell wanted the legislation to include the most up-to-date harm minimisation methods.
"If we lead the world in technology with respect to tracking huge America's Cup boats, then we can certainly lead the world in the formation of facial recognition in respect of minimisation of harm," he said.
Problem gamblers were far more likely to identify electronic gaming machines in pubs and casinos as their most common form of gambling than any other form of betting.
Pokie machines could be fixed with a camera which identified a problem gambler from a database within a few seconds and disabled the machine.
The technology had some limitations, because New Zealand did not have a national database of problem gamblers.
The system would also depend on self-referrals from people who wanted to exclude themselves from using pokies.
Positive Outlook director Paul Andrews said his company expected to roll out the technology in an 18-machine club as soon as next week at a cost of $27,000 - about the cost of one pokie machine.
He believed his company could expand the technology to all 18,000 of New Zealand's electronic gaming machines within 18 months, at a cost of around $25 to $35 million.
He said that gaming societies such as Pub Charity were keen to implement the technology, with nine out of 45 societies confirming they would use it so far.
Problem Gambling Foundation head Graeme Ramsey said facial recognition had huge promise.
He said if it were combined with pre-commitment cards, by identifying people who had set a limit on money or time, it would be powerful prevention tool.
Big market
17,760 gaming machines in 1381 pubs and clubs
$839.7m spent on pokies in 2012
Source: Department of Internal Affairs.