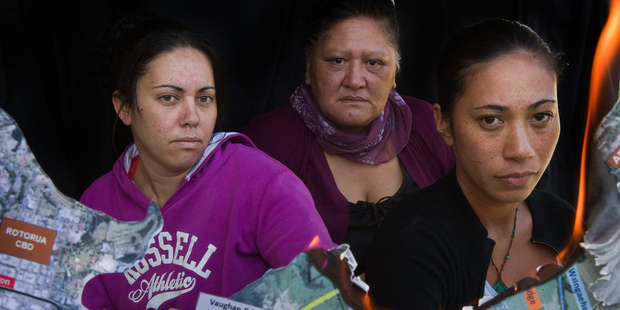 A grass-roots protest against a planned Rotorua Eastern Arterial (REA) route is gaining momentum with hundreds of people taking to the internet to voice their opposition.
Since the New Zealand Transport Agency (NZTA) confirmed the go-ahead for the route between 2020 and 2025 last week, a Facebook page and petition have been set up by locals wanting to fight the decision.
The new road would run from the airport to Sala St, cutting through a Maori reservation, would require the purchase and demolition of 12 properties and could cost up to $90 million. Local politicians say the road is essential for the city's future economy. But the Rotorua Daily Post understands Te Arawa hapu Ngati Hurungaterangi, Te Roro-o-te-Rangi and Ngati Uenukukopako could challenge the decision in the courts. Just days after the NZTA decision, a Facebook page, "Resistance against Te Arawa land confiscation" was set up which now has about 550 "likes", or supporters.
The page says it has been started to "oppose the confirmed land confiscation at Ngapuna, Owhata and Te Ngae to make way for the Rotorua Eastern Arterial".
Page administrators and concerned Owhata residents Renee Akurangi-Fitzell, June Parata and Trish-Cha Emile said their mission was to stop the road from going ahead, which would "have a devastating effect on our whenua (land) and have a significant impact on our history, whakapapa and future generations of our hapu".
"All we've done is produce a space for the community and hapu to voice their concerns," Ms Emile said.
"It's a forum with information for everyone - for and against. People like us can be intimidated by this sort of thing, the page gives us a voice and we can speak without fear of intimidation," Ms Parata said.
The trio have also organised a link to an online petition opposing the project which has also been set up, called "Stop the Eastern Arterial".
The petition can be found at avaaz.org and has more than 360 signatures.
A hui has been called at Hurungaterangi Marae for this Sunday at 1.30pm for people affected by the proposed road to plan future protests.
The next step in the process is for the NZTA to lodge a "Notice of Requirement" (NoR) for the works with the Rotorua District Council and it is expected to do so before the end of June.
Technically, the council could decline the NoR, but Rotorua Mayor Kevin Winters says such a decision could be appealed and ultimately be decided in the Environment Court.
For more articles from this region, go to Rotorua Daily Post