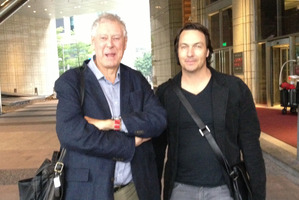 Sir Bob Harvey arrived in China yesterday morning for the 22nd time.
He and Waterfront Auckland chief executive John Dalzell and Chinese-speaking executive John Hong have 15 meetings planned in pursuit of developers and investors for the Auckland waterfront.
Sir Bob said he came to China last year with Auckland City Mayor Len Brown which opened the door for meetings with developers and investors.
They arrived in Guangzhou on the same day as the Prime Minister's trade mission began but they are not a part of it.
Sir Bob went to China often as the former Mayor of Waitakere, which had a sister city relationship with Ningbo, a boat-building centre.
He said he brought Mr Hong with him because "if you are serious about China, they expect seriousness in doing business". Mr Dalzell said expressions of interest would close on May 14 for about $80 million of development sites on leasehold tenure on eight different parcels of waterfront land earmarked for residential, the commercial innovation sector and a five-star hotel on the site of Team Emirates' base.
They were looking for developers who had expertise over large offerings and over a reasonably long period of time, Mr Dalzell said.
"I would say in the local market we could sell only 80 to 100 apartments a year."
So there were about eight to 10 years of supply on the waterfront.
Mr Key's delegation yesterday witnessed the signing of a joint venture between Snells Beach animation company Huhu and GET capital for the establishment of an animation studio in Guangzhou.
Company founder and chief executive Trevor Yaxley said it would create new jobs in New Zealand beyond the 200 people he already employed, and new jobs in China.
He could not reveal the value of the deal but said New Zealand was knowledge-rich and cash-poor and China was knowledge-poor and cash- rich. "It's a good win-win."
Mr Yaxley said he had been to China 66 times over the past 10 years.
"You cannot do business with China with one visit and a few emails," he said. "It will not work.
"We've learned that China do not do business with foreigners. China only do business with friends. And once you've gained friendships you know that because they stop asking you out for dinner, and they invite you to their home or away with the family for the weekend."