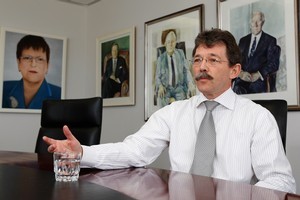 A private investigator has been cleared of alleged misconduct for secretly filming National Party president Peter Goodfellow and his estranged wife Libby Black in their former matrimonial home.
Mr Goodfellow claimed Clinton Bowerman had failed to get permission from "all lawful occupiers" of the Orakei home when he filmed a meeting between the pair in August last year.
The Private Security Personnel Licensing Authority, in a ruling published today, found Mr Bowerman was within his rights to film the meeting because he had consent from Ms Black, who he was working for as a personal guard and a private investigator.
Counsel for Mr Goodfellow had claimed he too needed to give permission because he was a legal occupier of the home.
The authority found Ms Black's consent was enough.
"The situation would be quite different if the surveillance intruded into truly private or intimate situations such as bathroom or sexual activities," the authority's report said.
"But I do not consider that the covert filming of a meeting between two individuals to discuss the division of their matrimonial assets done with the appropriate consent would [find] either a breach of the [code of conduct] or a finding of misconduct as defined [by law]."
Mr Goodfellow made two other complaints against Mr Bowerman: that he failed to display his ID badge and that his letterhead did not include proper wording required by law.
The authority officially reprimanded Mr Bowerman for failing to include an accurate status that he was a private investigator on his letterhead, which had been amended before the findings were released.
It found Mr Bowerman was not required to present his ID badge because he also worked as a private investigator, "especially on the day in question'".
"While his licence gave him the right to carry on the work of both classes of activity his primary role seemed to be that of a private investigator," the authority found.
- APNZ