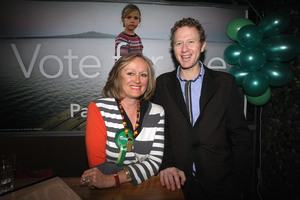 You can now smell via Google, and if you choose to sample Wanganui's waste-water treatment pond you will soon encounter the sweet aroma of toilet deodorisers.
And YouTube is to shut down for a decade while its staff choose the best video - but instead of wasting time watching clips, why not search for hidden treasure on Google Maps?
These announcements were just some of the April Fools' Day pranks that did the rounds yesterday.
The Green Party announced a paper calling for at least eight more statutory holidays to be introduced.
Auckland councillor and long-time National Party member Cameron Brewer said he was giving up his centre-right credentials to join the centre-left's efforts to have Mayor Len Brown re-elected.
"As they say, 'If you can't beat them, join them'," he said. "It's hard work fighting for ratepayers and exposing the excesses of council, so I'm going to throw my weight behind Len and just relax and enjoy the ratepayer-funded ride.
"Hopefully by supporting the mayor, there's also some free overseas travel in it for me," Mr Brewer said in a statement.
The Wanganui Chronicle reported that huge toilet deodorisers had been introduced to the area's wastewater treatment ponds in a frantic bid to cap the stench coming from them.
A Mini ad in the Herald offered readers the chance to "build your own Mini Countryman" in a 29,762 part series. The first part was a 95c screw.
Overseas, the pranks escalated in scale. YouTube released an elaborate video that revealed the site was merely an eight-year contest to find the best video. The website said it would close at midnight to review all the video submissions it had received over the years, and would announce the best one in 2023.
Google also got in on the prank action by releasing Treasure Maps and Google Nose Beta which "allows" users to smell success, airport terminals, geniuses and Abraham Lincoln, among other aromas.
Google Nose also featured StreetSense, which allows users to smell addresses from the comfort of their armchair, and Android Ambient Odour Detection, which lets smartphone users collect smells with their device.