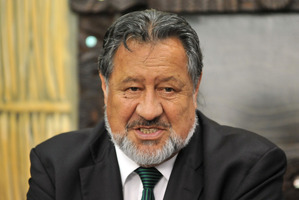 Maori Party co-leader Pita Sharples has come out of his corner fighting in the leadership contest with MP Te Ururoa Flavell, saying that although he knows the standoff could damage the party he will not stand aside or give a future date for his retirement, because he believed staying on was critical for the party to survive.
Dr Sharples wrote an opinion piece for the Herald today to set out his reasons for staying on in the job after suggestions from his fellow co-leader Tariana Turia and MP Te Ururoa Flavell that it was time he stepped down, rather than stay on past 2014.
Mr Flavell has challenged Dr Sharples for the leadership but Dr Sharples has refused to step aside and despite two hui to discuss it, the party is no closer to a resolution.
Yesterday, Dr Sharples told the Herald he agreed with his supporters who had told him to stay on as leader to rebuild the party and provide stability after Mrs Turia leaves in 2014. Dr Sharples conceded the stand-off could be damaging for the party, which was still trying to recover after the acrimonious split with Mana leader Hone Harawira - a split which carved away about one-third of the Maori Party's vote in 2011.
"I believe I'm the best person to lead us into the next election. We've had so much disruption with Hone going, and people saying there should only be one Maori party, and now Tariana is leaving.
"So it is important someone who has the connections, who is known throughout the country and has given all my heart and integrity is there to try to rally them back to the party." He said he was not angry at Mr Flavell for challenging, but wished he had waited a while longer.
However, Dr Sharples is also refusing to commit to standing down at a future date after 2014 even if that would convince Mr Flavell to stay his challenge, saying that might weaken his leadership impact.
Dr Sharples also said he regretted saying he hoped to lead the party until the day he died - a comment he said was intended to be light-hearted but which drew criticisms, including from NZ First leader Winston Peters, by people comparing it with a dictatorship. He hoped Mr Flavell would stay on if the party elected to stay with Dr Sharples.
"I would love him to stay with me, so we could work together. He's an awesome worker. But the leadership is a particular kind of thing at this stage, and I think I can reach out to a whole lot of sources that need to come back."
Dr Sharples' column follows Mr Flavell's appearance on TV One's Q+A programme last Sunday, on which Mr Flavell stopped short of directly saying Dr Sharples should go but said he did need to consider the succession.