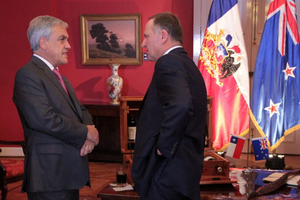 The Prime Minister set out on his 10-day tour of Latin America with not much new business in prospect. He was accompanied by representatives of firms such as Fonterra, Zespri and Mighty River Power whose industries underline the similarities of our economies. Those similarities might always limit the trade we can do with the nearest continent to our east, but trade is not the prime consideration in this relationship.
From our position in the world we ought to have more to do with South America. Chile and Argentina are closer than they look on a flat map. Our proximity on a direct route over Antarctica has encouraged the airlines of both countries to operate services to New Zealand. Argentina's has fallen victim to that country's economic mismanagement in recent times, but Lan Chile still flies here.
Travel ought to have made us as familiar with Santiago as we are with Singapore or Los Angeles. This country's cultural and educational exchanges with the Spanish-speaking nations on the Pacific rim could be as rich and well established as they are with Asia.
Hispanic migration could be a larger part of our population mix.
John Key visited four countries: Chile, Mexico, Colombia and Brazil. Chile is a fellow founder of the trade pact that aims to become the Trans-Pacific Partnership, Mexico is also in those negotiations. Colombia is beginning to realise its potential after pacifying a long insurgency and Brazil is being ranked with Russia, India and China as one of the world's future economic giants.
Brazil has also shown that popularly elected left-wing governments can be sensible and reliable economic managers. Its recent progress is a welcome contrast to Venezuela, where an oil price boom has been largely squandered by the populist Hugo Chavez, who died last week.
With any luck for Latin America, Chavez represents the last gasp of leadership that forever blamed the United States for its own failings.
He had a following beyond his own state but most of the continent appears to be moving in a more confident direction. None more so than Venezuela's neighbour, Colombia, where Mr Key heard more enthusiasm than he expected for a free trade agreement with New Zealand. President Juan Manuel Santos seems keen to include his country in the TPP.
With Chile as keen as New Zealand to see the negotiations reach some sort of fruition in October, and Latin American partners more open than most to a deal covering investment and intellectual property, it may be that the similarities of our economies presents a different opportunity.
Mr Key has observed that our "agribusiness" sector could outgrow the limits of New Zealand and find ready fields for expansion in South America.
In Chile he saw Fonterra's replica of a New Zealand farm, featuring pasture cultivated in this country, fencing and milking equipment made here, even cows born from embryos sent from New Zealand.
Our global outlook has come a long way from the days when many in New Zealand criticised the planting of our successful kiwifruit cultivar in Chile.
The bigger a market the better for a small country that is competitive in it.
Chile remains our most reliable partner in that region. Mighty River Power is doing geothermal developments there now.
But Mr Key's visit, like Helen Clark's a decade ago, has carried an important message further into Latin America: that we are not so far from them and we can do a great deal together for trade, investment, travel and prosperity around the ocean we share.