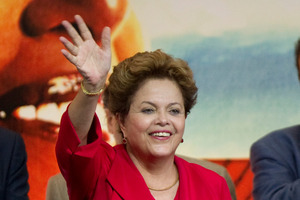 Brazil's President Dilma Rousseff has taken the surprising step of indicating Brazil could support New Zealand's bid for a Security Council seat in 2015 after meeting with Prime Minister John Key today.
The pair met for the first time in Brasilia late this morning and Ms Rousseff was not expected to publicly mention the Security Council bid. Brazil does not usually indicate who it is supporting in such elections, because it wants a permanent seat on the Council itself.
However, after the meeting, Ms Rousseff said both New Zealand and Brazil shared the view that reform of the Security Council was needed. She said of New Zealand's bid that Brazil was contemplating supporting it.
Ms Rousseff was also encouraging about building further links between the two countries, saying the global financial crisis had affected many of the world's largest markets.
"It is timely we join hands to cooperate and find ways to expand our exisiting trade. We in Brazil view your visit as an important development. It fosters closer ties and elevates to a higher level our mutual engagement.''
Although more people visit New Zealand from Brazil than any other Latin American country, the political and trade links are less well developed, partly because Brazil is not as active in international trade as the other Latin American countries Mr Key has visited. Ms Rousseff said both countries were interested in agriculture, and encouraged more cooperation.
"We acknowledge New Zealand stands as one of the world's major producers of dairy products.''
Fonterra has a joint venture with Nestle in Brazil.
She said New Zealand and Brazil shared many values, including a strong stance on nuclear weapons.
Mr Key and Ms Rousseff also discussed the FIFA World Cup, which Brazil will host in 2014. Mr Key said he had told Ms Rousseff that he knew something of the stresses of hosting an international event in which the home team was a strong contender after hosting the Rugby World Cup in New Zealand last year.
Ms Rousseff was speaking in Portuguese and her comments were simultaneously translated for the media.
Although there were no major announcements, the pair did sign off on an international education agreement
The two also signed an air services agreement which Mr Key said would make it easier for New Zealand airlines to travel to the country, although direct flights were difficult because of the distance.
New Zealand and Brazil also signed an agreement which could boost the number of Brazilian post-doctoral students at New Zealand universities by several hundred a year.
The 'Science without Borders' Agreement signed by Mr Key and Ms Rousseff would allow Brazil's students to get scholarships to study in New Zealand universities.
Charles Finny, the chair of Education New Zealand, said it had the potential to boost numbers by several hundred a year.
About 3000 Brazilian students already study in New Zealand each year.
The two leaders also agreed on a new air services agreement to encourage airlines to travel to each others' countries in a bid to boost tourism.