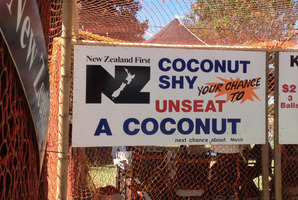 New Zealand First says it will alter a sign promoting a fundraising stall after complaints its offer of a "chance to unseat a coconut" had racist undertones.
The sign has appeared at NZ First's coconut shy at the annual Kumeu show for a number of years.
However, hard on the heels of NZ First MP Richard Prosser's anti Muslim outburst in Investigate magazine, the sign at the coconut shy at last weekend's show prompted a number of visitors to send photographs to the Herald.
Shane Primrose, of NZ First's Waitakere branch, who made the sign said it had "nothing to do with racism".
"It's totally about just unseating a coconut," he said referring to the game, which consists of throwing balls at a row of coconuts.
"How else do we word it?"
However, Mr Primrose said he took the point the sign could be taken the wrong way and it would be altered.
Samoan-born NZ First MP Asenati Lole-Taylor found it funny.
"The issue is it's making me laugh," she said. "I like to think I have a great sense of humour ... and we can't afford to take everything too seriously in this world otherwise we'll be running mad and we will be diagnosed as having mental problems."
However, she said the choice of words could be improved.
A spokeswoman for Kumeu showgrounds said NZ First had operated the coconut shy since 2007, during which time they had only received one complaint, "but we haven't had anything so far this year".