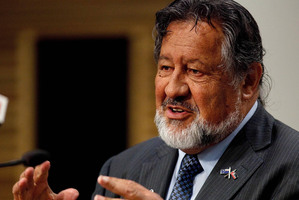 Maori Party co-leader Pita Sharples has mooted the idea of allowing two male co-leaders within the party as one solution for the stand-off between himself and Te Ururoa Flavell for the job.
However, Dr Sharples also made it clear that he would prefer to remain as the sole male co-leader and retain the male-female split the party currently has.
The party's Council is due to meet again in mid-March to discuss Mr Flavell's challenge for the leadership, which was made public at Ratana last month. It is not clear whether the party will actually decide between Dr Sharples or Mr Flavell at that meeting.
Dr Sharples said discussions about potential changes to the constitution to allow a different leadership model would be discussed there.
He said that could include allowing two male leaders, but while it would be a possible solution to the current solution, he was not sure it would be adopted.
"There has been talk of looking at that option. But I don't think it will grow.'' He said he thought women would like to have equal status.
Tariana Turia is due to retire next year, but Dr Sharples has said he will stand again and is fighting to hold onto the leadership.
In a Te Karere DigiPoll survey of 1000 Maori voters released yesterday, just over half of the Maori Party supporters surveyed said they disagreed with the retirements of Mrs Turia and Dr Sharples. Asked who they believed should replace Dr Sharples when he retired, 52 per cent of Maori Party voters said they did not know, 39 per cent said Mr Flavell, and six per cent said Mana leader Hone Harawira.
Asked what he will do if Mr Flavell won the leadership, Dr Sharples quipped "write books.''
"I'm determined to go to the selection. Full steam ahead. I believe in the Maori Party.
We were damaged over the last few years and that's the reason I'm listening to people who say 'don't go - we will crumble.' I don't want to be the reason for us to crumble.''
In the same Te Karere Digipoll poll, 56 per cent of Maori Party voters also said they supported the Maori Party working in a formal relationship with National.
Dr Sharples said it showed that many people believed that, in the long run, it was better to be in government even if it was National-led.
"I think they're realising we have made some changes. People have forgotten that we actually saved the Maori seats.''