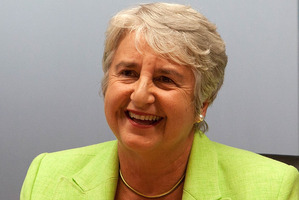 Iwi leaders were promising the country a moderate water position even as one of them called Supreme Court Chief Justice Dame Sian Elias heavenly today.
Dame Sian said last week during the Supreme Court hearing of the Maori Council's final bid to halt the Mighty River Power sale of shares that it would inevitably create barriers to the Government's ability to provide redress for Maori rights.
The council's case had earlier been rejected comprehensively by the High Court. It sought a delay to the partial asset sales programme until a mechanism for dealing with Maori rights and interests in freshwater is established.
Te Runanga a Iwi o Ngapuhi chairman Sonny Tau said in his books, Dame Sian had perfectly articulated a simple point.
"[The government says] they're able to continue to address our issues, but the reality of it is they can't, because 49 per cent [of Mighty River Power] is gone.
"I think her comments are great. She's been elevated to angelic status."
The Iwi Chairs' Forum which represents more than 50 tribes met today and will have their annual Waitangi meeting with Government ministers tomorrow.
Te Arawa's Roku Mihinui who leads a committee working on freshwater, and Waikato-Tainui leader Tom Roa both said no matter the outcome of the appeal, iwi leaders' broad message to ministers was that they backed the government's work with tribes in the Land and Water Forum and direct iwi-to-iwi negotiations.
Mr Roa said leaders were keen to take a "moderate, considered pathway with the Crown," but real progress in recognising Maori interests had to be a government priority this year.
But that position of government/iwi engagement against the background of the sales isn't likely to sit well with the Maori Council which holds its own water forum tomorrow (Tue) on the campgrounds at the same time as Mr Key is welcomed onto Te Tii marae.
Mr Key said he was not bothered by the potential for the council to confront him.
"They're free to go and do that, of course ... I understand the Maori Council's perspective when it comes to water. We've seen those arguments taken to the Supreme Court and made in the Supreme Court. I stand by the views I've always held."
Mr Key who last year gave the Maori Party a pledge his Government would not legislate against any court decision upholding Maori rights and interests in water was unwilling to discuss what he might do if the Supreme Court found in favour of the council.
"It would be bad form for me as Prime Minister to comment while they are adjudicating. We'll come back when they ultimately do ... let's wait and see the judgement."
The Government hopes to receive the court's decision before February 18.