In between overseas trips, Murray McCully talks to political editor Audrey Young about his hectic year ahead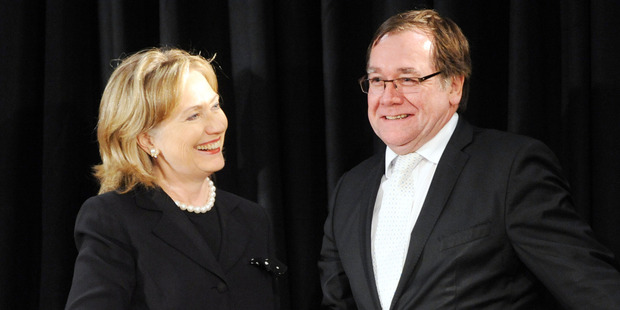 When John Key wrapped up his first 2013 caucus meeting on Tuesday, he finished it saying: "Okay, that's about it - Murray, see you in December."
He was half joking about Cabinet minister Murray McCully, who has the busiest year yet ahead of him out of his four years as Foreign Minister.
Mr McCully has already been to Ethiopia for the African Union Council executive meeting, and the United Arab Emirates.
In the next couple of months he is heading back to Africa, back to the Middle East, to China, to Central Asia and next week will go to the Antarctic for the first time. He also hopes to get to Washington in the first six months of the year to meet the new US Secretary of State, John Kerry.
"It's certainly going to be the busiest year from a travel point of view," Mr McCully told the Herald in an interview this week.
And while some people see making the formal circuit of the world's capitals as an unnecessary indulgence, the minister describes it effectively as a traditional and essential part of the job.
"You've just got to make the calls ... a lot of foreign policy depends on people making the formal calls and having the formal meetings.
"It is a very structured and quite hierarchical sort of environment and you've just got to do the calls."
In between his visit to Africa last week and Antarctica next week, he has been meeting teams of officials from the Ministry of Foreign Affairs and Trade division by division, "reviewing where we are at region by region so we can relatively informally make sure we are all working off the same page from the beginning of the year".
He appears to have all but forgotten, if not forgiven, the rebellion in the ranks of senior diplomats last year when a series of leaks revealed strong resistance to restructuring plans by chief executive John Allen.
"I've always had a high degree of confidence in the ministry," he said. "I think one or two people got carried away in the heat of battle and some of the things that were proposed made people feel very strongly. That doesn't excuse unprofessional behaviour. There is a process to do with that which is being run by the State Services."
Troubleshooter Paula Rebstock has been commissioned by the State Services Commission to investigate the leaks from the ministry and Mr McCully is distancing himself from that process.
"I made it very clear that we would just get on and do the business. That's what the taxpayers pay me to do and what they pay the ministry to do."
He hadn't seen the report and he did not expect to do so although he understood it was still going to be some time away from completion.
New Zealand's bid to gain a place on the United Nations Security Council in 2015-16 is taking up more of his time as the vote in October next year gets closer.
He plans to cover a lot of ground this year: "We have been fairly active so far but the intensity of these things just keeps lifting as the years go by so this year is going to be pretty busy and next year is going to be frantic."
Mr McCully has just reappointed former National leader Jim McLay as ambassador to the United Nations.
"The senior face that presents in New York is very important and he cuts a very good figure there representing New Zealand," Mr McCully said.
"He is a rare combination of having the seniority and bearing to be able to make an impact but also the command of the detail, to be across a lot of stuff that is pretty challenging."
Other major issues on the agenda this year include the pull-out of New Zealand's contribution in Afghanistan, and more particularly working out what sort of civilian support is left in place to help with agricultural projects, as well as the transitions in the Solomons and Timor Leste from defence support to civilian support.
He will oversee a continuing push to strengthen relations with Southeast Asia and the Ministry of Foreign Affairs is working on an Asean strategy, setting out plans to develop stronger ties in the region.
And he will work on cementing ties with the new faces in leadership teams in China and the United States.
Mike Moore, a former Labour Prime Minister and director-general of the World Trade Organisation, has just been reappointed New Zealand's Ambassador to Washington for another three years.
Mr McCully went to Ethiopia a year ago and attendance at the African Union foreign ministers' meeting is now an annual fixture in Mr McCully's diary, not just for campaigning purposes.
"Yes, we do need to do some work there for the Security Council but some of the fastest growing countries in the world are in Africa."
Over half of the world's undeveloped agricultural land was in Africa and New Zealand had only two diplomatic posts there, in South Africa and Cairo, and a Wellington-based ambassador in Addis Ababa, Ethiopia.
"We are under-done in Africa and we have to do more."
The challenge there and in Asia was trying to get better representation without getting a bigger budget.
He said there had been interest at the African Union meeting in New Zealand's support last year for the United Nations resolution on Palestinian statehood. (United States and Canada voted against; Australia and Britain abstained). But he insisted that the vote in support had nothing to do with the bid to get on to the Security Council.
"The key to that decision was our long-term determination to be seen as fair-minded and balanced and constructive in our approach," he said.
"And when you add it it up, the fact is that preserving that brand dictated that we should vote for it in the circumstances." It could be argued that New Zealand's brand was what it offered "front and centre" for the Security Council.
"But I've made it clear we are not going to go casting our vote or changing our policies in a simple attempt to win votes.
"I think our brand is very important. It's a long-term investment that New Zealand Governments and New Zealanders have made. We need to preserve it and enhance it."
Spain and Turkey are also seeking election for the two seats open to the grouping known as "Western Europe and others" but Australia's successful bid last year for a seat from 2013-14 could count against New Zealand.
Asked about the campaign to support Trade Minister Tim Groser as director-general of the World Trade Organisation, Mr McCully said that Mr Groser was running it as a "very personalised" campaign.
"Our pitch is not that it's New Zealand's turn or our region's turn or any of the considerations you might normally take into account. This is very much a campaign built around the personal attributes and experience of and status of Tim Groser so it is a very personalised campaign that is being run."