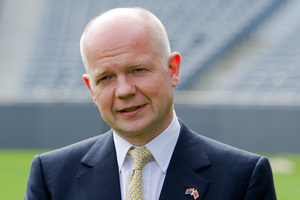 British Foreign Secretary William Hague has made touring the Christchurch red zone a priority during his visit to New Zealand, Foreign Minister Murray McCully says.
The men are holding bilateral talks in Auckland today before Mr Hague visits Christchurch.
Mr McCully told Newstalk ZB this morning that the Red Zone tour was an opportunity for Mr Hague to have a look at the quake-hit city.
"He's expressed a lot of solidarity and support for the people of Christchurch over a period of time now; always asked about how things are going.
"And when he had half a day that he could spend doing something outside of Auckland, that was his priority, and we were very pleased to make it happen for him."
Earthquake Recovery Minister Gerry Brownlee would give Mr Hague a guided tour and "a good briefing on where things go from here in Christchurch".
Mr McCully agreed Mr Hague's second visit to New Zealand in as many years sent a message that he is a man of his word. "It also tells us that this is an important relationship for us, because these guys sit at the UN Security Council as permanent members.
"It's such a great chance for us to download from him on all the important things happening around the world."
Mr McCully said it should not be forgotten that Britain was very important to New Zealand.
"While they've got their own challenges at the moment, it's still a very big market that's going to become a bigger market over time. And having friends that will speak up for us is pretty important - it always has been for decades now."
Mr McCully said the bilateral talks would include a discussion about the countries working more closely together around the world.
"For example, we share space in the embassy in Kabul [in Afghanistan] at the moment. It was the easiest and most cost-effective way for us to put an ambassador into a very difficult place.
"Now as we look at changing our footprint around the world and as they look at developing theirs, we'll be looking at practical things we can do to share space together, work closely together, share services."
The ministers are expected to discuss the situation in Iran and Syria, the Middle East peace process, developments in Afghanistan, and regional issues such as Fiji and Myanmar.
- APNZ