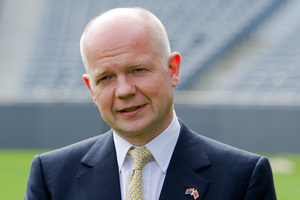 Foreign Minister Murray McCully and his British counterpart, William Hague, will discuss sharing offices at diplomatic missions as the foreign services of both countries look for cost-cutting measures.
The two men will meet in Auckland today and Mr McCully said he expected to discuss the two foreign ministries sharing office space and some services in some countries.
A similar deal between Britain and Canada last September prompted concerns that the linkages would affect Canada's independent foreign policy stance and create security risks for diplomats in areas where British offices were targets of attacks.
New Zealand already sublets an office at the British Embassy compound in Kabul, which was attacked last April, although the two Kiwi diplomatic staff there were unhurt.
Mr Hague revealed the talks with New Zealand about sharing premises when he announced the Canada deal, saying it made sense for "first cousins" to link embassies, enabling each country to further business and political links at less cost.
Mr McCully denied it would affect New Zealand's foreign policy stance, saying it was a practical arrangement.
"I'm talking about simply sharing buildings and some core services. [Mr Hague] has been quite assertive about how much value there is in getting efficiencies in that way and I think he's right about that, actually."
Mr McCully said New Zealand already had a similar arrangement with Australia, subletting office space at the Australian Embassy in Vienna.
Britain has started expanding its representation in South American and African countries, as well as the Middle East - all areas in New Zealand's sights as it seeks to tap into broader trade markets.
Mr McCully said Mr Hague's visit was his second in two years.
He said the pair would also discuss recent developments in Fiji, where interim Prime Minister Frank Bainimarama has rejected a draft constitution prepared by a constitution commission partly funded by $500,000 from New Zealand.