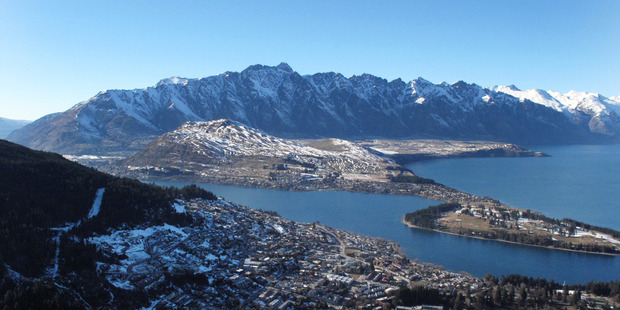 CONVENTIONAL CONTEST
As those involved await the release of the Auditor-General's report on the Auckland convention centre, Queenstown has joined Christchurch with plans for a convention centres of its own. Its venture aims to host up to 800 delegates and will be driven by new Queenstown Lakes District Council chief executive Adam Feeley, who may find the task a bit more straightforward than his previous experience with the redevelopment of Eden Park. Based on experience, what are the chances the southerners will have their centres up and running before anything is agreed in Auckland?
LOST ART OF WIT
Former Deputy PM Michael Cullen's biting wit was on display at a recent conference when he said "I am not speaking on behalf of any organised political party, or the Labour Party". He may have been shamelessly plagiarising - 90 years ago, US humorist Will Rogers said "I am not a member of any organised political party. I am a Democrat" - but it showed how much Cullen is missed around Parliament; none of the current crop has his turn of phrase.
XMAS CHEER
Despite the slow death of snail mail, Christmas cards from MPs remain a strong tradition, with most press gallery journalists getting their share. Prime Minister John Key is still giving bottles of "JK" labelled pinot noir to gallery journalists, despite the growing frostiness between the ninth floor and many of the hacks.
FLYING HIGH ON-LINE
For any bricks and mortar retailer who still dismisses the threat of online competition, here's a bit of chilling news. In a story on overseas websites targeting Australia, the Bloomberg news agency this week reported that one company alone - Asos, Britain's largest online-only fashion store - says it sends four jumbo jets of clothing to Oz every week. And US-based FiftyOne, which helps clients such as Saks, Macy's and Neiman Marcus sell overseas, runs two Boeing 777 freight flights a week to Sydney.
A CLOSE EYE
Who audits the auditors? In the case of the Office of the Controller and Auditor-General, it is CST Nexia (formerly Curran Sole and Tuck of Auckland). Initially appointed in 2004, it recently won the contract again, until 2015. This has set off a few alarm bells in the accountancy world, as the Institute of Chartered Accountants' code of ethics recommends a seven-year time limit for auditors, to protect against over-familiarity. The contract went out for tender but there were a limited number of applications, as many of the big accountancy companies are ruled out because of conflicts of interest. CST Nexia says it is rotating staff but some MPs are concerned about the arrangement.
PUSH LOSING POWER
When Simon Power was Commerce Minister, he was edging the Cabinet towards criminalising cartel-type behaviour. Legislation was produced, but it has been delayed for various reasons. Ministers have now got cold feet over similar sanctions for dodgy behaviour by directors, and the word is that they are having second thoughts about bringing our law into line with Australia, where the law provides prison time for those involved in cartels.
BALLSY BET
Two of the airline industry's big boys are squabbling in the sandpit again. When the head of British Airways' parent company, Willie Walsh, dared suggest that Virgin Atlantic would disappear if a deal with Delta Airlines went through, Virgin's Sir Richard Branson hit back, inviting Walsh to take a £1 million ($1.91 million) bet. If Virgin is still around in five years, Walsh would have to pay the cash to its staff; if it vanishes, Branson would pay the same amount to BA staff. Walsh accepted, with a twist: since losing £1 million wouldn't hurt Branson, he said, he'd rather wager "a knee in the groin".
HEALTH CHECK
Ministers have been warned that, while the management of health sector budgets has been a success, it is going to get tougher. The Ministry of Health's four-year budget plan relies on district health boards making "sizeable efficiency gains with limited supporting analysis or policy work on the consequences of this approach", says an officials' review. With $700 million in savings expected over four years, "further efficiency gains will also become increasingly challenging", says the review. And without process changes, "service performance will be impacted at some point". The report also points out that, despite National narrowing the Ministry of Health's focus, by one count it still has 34 sector strategic documents, many of them outdated.