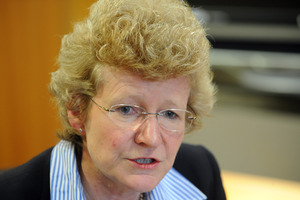 The Prime Minister termed it the honourable thing to do. It was the least that she could have done.
Kate Wilkinson would have gained a lot more public respect and kudos had she resigned from the Cabinet altogether rather than just her Labour portfolio in the wake of yesterday's blunt and damning royal commission report on the Pike River mine disaster. Wilkinson still holds the Conservation, Food Safety and Associate Immigration portfolios.
Offering those up as well - even if the offer would not have been accepted by John Key - would have been a gesture with real meaning in the context of the deaths of the 29 miners at Pike River in 2010.
Her response has consequently looked rather token in comparison.
Wilkinson has probably won some kudos in Key's mind for jumping from her portfolio before he had to push her out of it. Had she survived in the portfolio it would have been an escape of Houdini-scale proportions.
Had she stayed, however, her continued presence in the portfolio would have created another unwanted distraction from where National wants to focus voters' attention - the policy fundamentals of things such as health, education and law and order.
In Wilkinson's defence, she is not singled out for blame.
Key also claims there is no evidence that any action or inaction by his minister could be sheeted home as somehow responsible for the Pike River disaster.
The departmental culture which produced the "systemic" failures is also bound to have predated her arrival in the portfolio. Previous Labour Party ministers in that portfolio must thus bear some responsibility.
But there is a big difference in attitude between her and her Labour predecessors. The difference is she is an economic dry. Key's mistake is that he put a born-again deregulator into a portfolio where regulations were in desperate need of promulgation and then enforcement.
Few other National Party ministers display a tone and demeanour which is so avowedly hostile to the interests of the workforce compared with employers. That lack of sympathy ultimately cost Wilkinson one of her jobs.