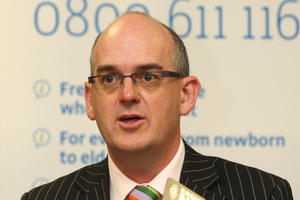 Health Minister Tony Ryall threatened to use special legal powers to force hospital bosses to do his bidding if they did not support a project to save $700 million.
The threat came after flaws in the plan were exposed in a high-level review which questioned where the savings had come from.
An Ernst & Young review into the plan found the savings were based on assumptions which were "out of date" and "the basis on which they have been calculated are not clear".
The money is being saved by merging back-office functions of district health boards to get better deals with fewer staff. It happens through a Crown-owned company called Health Benefits Ltd (HBL).
Documents released through the Official Information Act show the path has been rocky, with a communication breakdown between the boards and HBL.
DHBs repeatedly told the Ernst & Young review panel they felt HBL was "doing this to us" rather than "doing this with us". Difficulties deepened when HBL went looking for government funding - and was told it would have to come from the health boards.
The papers show Mr Ryall writing to HBL to endorse the "partnership principle" as critical to making savings.
He then wrote that he would force the health boards into partnership as a last resort if they did not do it.
The new powers were granted to Mr Ryall two years ago in a law designed to streamline health board purchasing and administration.
"It is a very big stick," Mr Ryall said. "I haven't had to use it yet."
The Ernst & Young review found HBL was making easy savings for quick gains. Advice since has told Mr Ryall the savings plan would miss its target of $700 million by 2015.
Mr Ryall said the plan was now entering its ambitious phase. "The rubber starts hitting the road in the next couple of years. It is a big job."
The shared financial services scheme had just been approved by the 20 DHBs with more than $200 million saved, he said. It would lead to redundancies as services were shared.
Health specialists have been critical of the scheme, which they say removes valuable support functions in health boards.