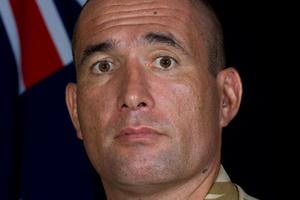 Warrant Officer Denis Wanihi. Photo / Supplied
An army bomb expert honoured for his work dealing with improvised explosive devices (IEDs) in Afghanistan has thanked his family for allowing him to carry out his dangerous job.
Warrant Officer Denis Wanihi was awarded the New Zealand Gallantry Medal by Governor-General Lieutenant General Sir Jerry Mateparae for courageous and distinguished service in Afghanistan at a ceremony at Government House in Wellington today.
Warrant Officer Wanihi said the award was for his family who had made sacrifices and allowed him to carry out his dangerous work.
"They are aware that at anytime I could be one of those people who don't make it home and I thank them for that, for giving me their trust so I can go out and do my job and come home safe."
While serving in Afghanistan in 2010, Warrant Officer Wanihi was part of a team that disarmed an IED hidden in a truck parked close to an army base and a high density housing area.
On the same day he was part of another team that found and dismantled 12 suicide vests worn by insurgents.
Last month three of Warrant Officer Wanihi's colleagues, Corporal Luke Tamatea, Lance Corporal Jacinda Baker and Private Richard Harris, were killed instantly when the army vehicle they were in hit an IED in northeast Bamiyan Province.
Warrant Officer Wanihi said he was saddened by the incident.
"But it's part of our role as the Defence Force that we will encounter insurgents, enemies that will do anything to stop what we're doing."
His work was constantly evolving because bombmakers were continually improving their skills in making the devices.
"We try and adapt to change with them, but again they will change again to counter us. It's constantly changing."
Veteran journalist Peter Arnett, who has covered war zones for more than three decades, also honoured today, made an Officer of the New Zealand Order of Merit for services to journalism in the Queens Birthday Honours.
In 1966, Arnett was awarded a Pulitzer Prize for International reporting, after covering wars from Vietnam to Baghdad over 35 years.
His career began more than 50 years ago in Wellington.
"Never did I dream that I would be back eventually to receive an honour such as this," he said.
Arnett's career spanned stints with NBC, MSNBC and most notably CNN.
Also honoured today was former international cricketer Martin Snedden, the current Tourism Industry Association boss who last year headed the Rugby World Cup campaign.
He was made a Companion of the New Zealand Order of Merit for services to sporting administration.
Sneddon said he had in mind all the people involved in the organisations he had run.
"It was lovely to be part of it all."
While he was organising the World Cup, he realised that if it was successful, it would benefit the country enormously.
"That was an enormous motivating factor for our team, we new New Zealand was absolutely and utterly on show and we could not afford to get it wrong."
He said the country needed a boost after the Christchurch earthquake, the Pike River Mine tragedy and the economic crisis.
"And Rugby World Cup came along at exactly the right time - and I guess the way it finished as well, with the All Blacks just getting there."
- APNZ