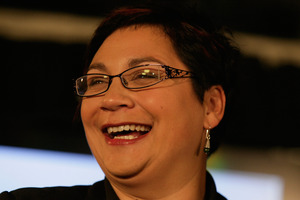 They were both young, solo mums on welfare. But Metiria Turei and Paula Bennett are now on opposite sides of Parliament, and Turei will today single Bennett out for a withering attack at the Green Party annual meeting.
Turei, the Greens' co-leader, says New Zealand was first to give women the vote, and led the way in supporting them. But now, the Social Development Minister is creating policy that undermines the gains made by the suffragette movement.
"The solo mum remains the primary target for society's most vitriolic personal attacks - led these days by Paula Bennett who knows only too well how much it hurts, but plunges the knife in anyway."
Like Bennett, Turei went on the domestic purposes benefit when she had her daughter Piupiu in her teens. She used a training incentive allowance to gain her degree.
Bennett had her first child, Ana, at 17 and depended on welfare to support her, as well as to study for her Bachelor of Arts qualification at Massey.
But Bennett now wants to scrap support systems for women in her welfare reforms, the Green MP says. The reforms would make mothers who had another baby while on the benefit seek work when the child turned one.
Bennett said Turei would leave women on welfare "indefinitely and not offer any additional assistance to upskill and get into work".
The minister believed New Zealand women had greater support than she did 25 years ago. She believed sole parents have a significant contribution to make and wanted to ensure they and their children had a better life than long-term welfare dependency offered.
Meanwhile, Greens co-leader Russel Norman said at the party's national conference yesterday that the party would not scrap all mining if elected because it was an "inescapable" part of the New Zealand economy. Norman said Greens wanted each new mining operation to be considered on a case-by-case basis under a strengthened Resource Management Act.