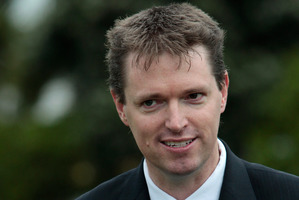 Conservative Party leader Colin Craig loaned $1.9 million to his party for its election expenses, but this month wrote off $1.6 million of that loan as a donation.
A $1.6 million donation was disclosed to the Electoral Commission on May 18 under the law requiring donations of more than $30,000 to be declared within 20 working days.
The party's election return was also filed with the Electoral Commission on May 18 - about two months late - and it listed no donations over the disclosure threshold of $15,000 and only $11,791.50 in smaller sums.
Mr Craig said his company, Centurion Management, had paid the bills for the Conservatives' campaign totalling $1.55 million during 2011, and subsequently billed the party for the amount.
Centurion did not invoice the party until early this year - after the period for election-year returns ended. In February, Mr Craig loaned the party $1.9 million to pay it - although a formal loan agreement was not drawn up until May 17 after the auditor of the return asked for it.
On the same date in May, Mr Craig forgave $1.6 million of that debt and that sum was declared as a donation. He said the party had repaid him for the remainder.
The auditor's report with the donation return said it was possible that Mr Craig's $1.6 million should be listed in the donation return for election year - rather than now - if it was deemed to be a donation on the date the bills were originally paid by way of a loan, rather than the date the debt was forgiven.
However, Mr Craig said he believed the donation was made this month. He said the auditor's report was confusing and he had asked for it to be revised. It stated that he personally had paid the party's bills as a loan in 2011, when it was actually his company.
Labour MP David Parker said if Mr Craig himself had loaned the money in election year, it was odd to subsequently transform it into a donation after the election return period ended.
"If it's permissible as law to have a loan instead of a donation, which after the election period you can then forgive and treat as a donation, it just shows again how completely inadequate our rules are on transparency on donation in New Zealand."
Mr Craig said he was not trying to hide his own donation to the party by making it after election year - he had always been clear he was funding the bulk of the campaign out of his own pocket. However, he did not know how much he would end up donating himself at the time, because it would have depended on how much funding the party gained from other donors and fundraising exercises.
He said the party had sought legal advice throughout. The Electoral Act required parties to treat the value of any forgone interest on any form of credit as a donation.
Mr Craig said the party had treated the bill payments by Centurion on its behalf as credit on favourable grounds and declared interest on that at a rate of 12 per cent, which totalled a $10,590.50 donation in its return.