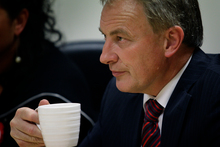 Labour foreign affairs spokesman Phil Goff has obtained documents showing the Ministry of Foreign Affairs and Trade has staged a significant backdown on its planned restructure and will secure only half the $24 million in savings originally intended.
Mr Goff said papers leaked to him are due to go before Cabinet next week and show the revised plan to restructure the ministry will now involve 146 job cuts - down from 304.
The expected savings are now $12m, little more than the $9m cost of the restructuring. The ministry's original aim was for $40m in savings, of which the restructure was expected to save $24m.
Mr Goff said he had further information showing about $3.3m more was budgeted to spend on consultants to implement the changes over the next year.
The documents showed the Stockholm Embassy would close next month and embassies in Madrid and the Hague would be shut later. Other missions, including in Warsaw and Rome, would be downsized and some property in Paris would be sold.
The job cuts include 53 foreign policy or diplomatic roles, of which 39 were senior positions, and 93 back office roles.
Proposals to cut the allowances of diplomats serving overseas, such as spousal allowances, had largely been abandoned.
Mr Goff said even at that level, the cleanout was too much. Mr Goff said the restructuring process had been handled "bysmally" and the damage had already been done.
The backdown follows a revolt by senior diplomats after the proposals were first outlined by ministry head John Allen.
Diplomats wrote a joint letter warning of the consequences to New Zealand's work on the international stage if the changes went ahead, and were subsequently flown back to Wellington for two days of talks about the changes.
If Mr Goff's papers are correct, it shows a u-turn on all of the most contentious proposals - including a requirement that staff returning from overseas posting have to apply for another job within the department.
By Claire Trevett @CTrevettNZH

Email

Claire