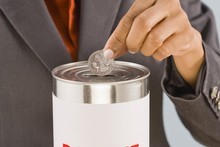 Opposition is building to the dismantling of the Charities Commission as organisations such as Philanthropy NZ and the Tindall Foundation say folding it back into Internal Affairs will leave it open to political meddling.
If passed, the Crown Entities Reform Bill will merge the functions of a number of agencies in a bid to cut costs and improve their performance.
The bill would scrap the Charities Commission and transfer its functions to the Department of Internal Affairs. The merger is expected to cost $300,000 and save $2.4 million over four years.
Several charities said the rationale for setting up a commission seven years ago was to create a transparent body which was free from political interference.
Philanthropy NZ chief Robyn Scott said these values would be undermined if the commission's functions were passed on to a larger department.
"The charitable sector battled over a long period to have an independent commission. There was an enormous amount of thought that went into that in the first instance.
"The Charities Commission is only four years old. It is new, still finding its feet, still developing case law ... and we're not really convinced that all of that is going to be that effective if the commission's functions were transferred," Ms Scott said.
Her organisation wanted the commission to be retained and suggested some cost-cutting measures, such as sharing back-office functions and reducing the number of commissioners.
Several charities argued that the gains made under the commission's short tenure would be lost, in particular the open data on charities which the public could easilyaccess.
The Tindall Foundation, which has donated $100 million since The Warehouse founder Sir Stephen Tindall and his wife, Lady Margaret, set it up in 1994, said in a submission to a select committee that charitable giving had grown under the commission because the stand-alone body had increased public trust in the charity sector.
A clause in the bill will compel members of a new board to act independently in exercising their professional judgment, without direction from the minister.
By Isaac Davison @Isaac_Davison

Email

Isaac