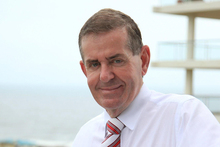 In another crippling blow to Prime Minister Julia Gillard's ailing minority Government the Speaker of the House, Peter Slipper, has stood aside in the face of allegations of fraud and sexually harassing a gay male staffer.
Slipper, a turncoat Coalition MP now sitting as an independent, was installed in the job last year in a deal with Labor that saw predecessor Harry Jenkins return to the Government benches, effectively giving Gillard two extra votes.
But the Government, earlier secured by the votes of three independents and a Greens MP, has lost the support of Tasmanian independent Andrew Wilkie after Gillard's decision to renege on a deal on poker machine regulation.
A cloud also continues to hover above New Zealand-born Labor MP Craig Thomson, the subject of allegations concerning financial management of the Health Services Union when he was its national secretary.
The support of Slipper was increasingly important as Gillard struggled against appalling polls that consistently predict a landslide defeat at next year's election.
Deputy Speaker Anna Burke, a Labor MP, will act as Speaker until the allegations against Slipper are resolved.
Slipper's decision to step aside late yesterday followed the bombshell allegations of harassment and fraud by 33-year-old aide James Ashby, outlined in documents presented to the Federal Court.
In a statement Slipper said that while he emphatically denied Ashby's claims, it was appropriate for him to step aside while the criminal allegation was resolved.
"The allegations include both a claim of criminal behaviour and a claim under civil law," he said.
"Any allegation of criminal behaviour is grave and should be dealt with in a manner that shows appropriate regard to the integrity of our democratic institutions and to precedent.
"As such, I believe it is appropriate for me to stand aside as Speaker while this criminal allegation is resolved.
"The allegation is incorrect and once it is clear it is untrue I shall return to the speakership."
Slipper's decision came after Opposition Leader Tony Abbott used the allegations as a further cudgel in the Coalition's campaign to discredit Gillard, already under regular attack over her political judgment and regarded as untruthful and untrustworthy by most voters.
Abbott had demanded Slipper stand aside until the allegations had been decided in court, and urged a Federal Police investigation into claims of the misuse of Cabcharge taxi vouchers provided to MPs for parliamentary business.
"This is a question of the Prime Minister's judgment, her integrity, her sense of the standing of the Parliament and she cannot afford to wash her hands of this as she has washed her hands of the Craig Thomson matter," he said.
Gillard could not have sacked Slipper from the Speaker's role, but he could have been dismissed by a vote in the House, an option that would have severely bruised the Government whatever the outcome.
The scandal broke at the weekend when News Ltd newspapers reported Ashby had begun action in the Federal Court under the Fair Work Act.
News Ltd reported documents filed with the court claimed Slipper had employed Ashby only to pursue a sexual affair, and that he had sent explicit text messages - some ending with "xxx" - and had made unwanted sexual advances and inappropriate comments.
Slipper, 62, is married with two children.
The documents reportedly say that in the weeks after he was hired last December, Slipper had asked Ashby for massages, sought graphic details of his sex life, and had asked him to shower with the door open when he stayed at Slipper's Canberra residence.
Ashby said he had refused, but Slipper had left the door open when he showered.
Ashby is seeking compensation from Slipper in the case, due to come before the Federal Court on May 21.
Ashby has also accused Slipper of misusing parliamentary Cabcharge vouchers, alleging he used them to travel in a limousine around Sydney, three times handing a driver multiple vouchers that had been signed, but with other details left blank.
The Government had earlier insisted the allegations be left to due process. "These are now allegations that are in legal proceedings ... [and] I think we should respect the processes," Deputy Prime Minister Wayne Swan told ABC TV yesterday.
By Greg Ansley

Email

Greg