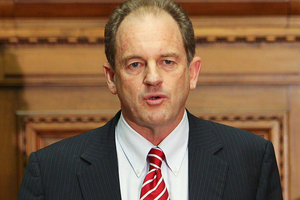 Super Thursday has arrived when Prime Minister John Key and Opposition Leader David Shearer each give major speeches, one in Auckland and one in Wellington.
Mr Shearer's breakfast speech in Wellington is expected to reposition Labour towards the centre.
Mr Key's lunchtime speech in Auckland will set out the Government's expectations around public service delivery.
He is expected to identify 10 areas today that will have specific targets set in them.
The first one will be that the percentage of 18-year-olds with NCEA level 2 or its equivalent increase within five years.
The other nine targets will be identified today and established in detail by June 30.
Each target will be overseen by a minister and a chief executive and may require changes to the way the relevant ministry or department works.
The setting of targets is a bid to shift the focus of public sector reform away from a slash and burn exercise that National's political opponents characterise it as and more one of service delivery improvement.
However some restructuring is expected to be announced by Mr Key, including the establishment of a super ministry by merging the Ministry of Economic Development, Science and Innovation, and the Department of Labour.
Mr Key may also reset the cap of the core public service which at present stands at 36,475.
In the 2008 election campaign for its first term in office, National set the cap at 38,859, meaning it would not grow beyond that.
TV3 last night replayed archival footage of Mr Key in September 2008 telling the Public Service Association conference "we're not going to cut jobs - we're just saying we're capping at 36,000."
He was wrong on both counts: the cap was actually higher than he stated to the PSA - by 2859 - and there were 2384 fewer jobs at the end.
Mr Key's announcements are thought to be the result of the work of an elite body of public service chiefs who have been working on reforms since May last year, chaired by head of the Department of Prime Minister and Cabinet, Maarten Wevers.
Their report, the Better Public Services Advisory Report, will be released today as well.
The chief executive of the Auckland Chamber of Commerce, Michael Barnett, told the Herald last night that Mr Key's office had approached the chamber in mid-February asking if it would host a lunch for Mr Key on March 15 at which he would make some big announcements.