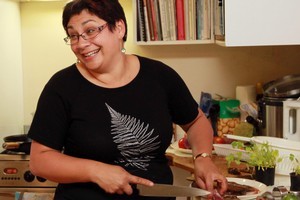 Greens co-leader, seen as fringe radical by some, shrugs off those who disown her.
For a journalist, I'm mostly well-mannered. So, before Friday night's dinner with the Green Party co-leader Metiria Turei, I email her. What kind of wine should I bring? She's out on the road campaigning, but the reply from her smartphone is swift: "Red or white, it will be drunk. So which ever you prefer. See you then, mx."
This bodes well.
METIRIA TUREI has kicked off her shoes and already has a glass of white wine in her hand when she greets us at the door.
Wearing blue jeans, a black T-shirt and a broad smile, she leads the way to the living room and the television set. It's 6pm. It's an election campaign. She's watching the news of course she is.
Labour has just, belatedly, announced the costings for its policies. Do you think, she muses, that aspiring leader David Cunliffe set up his boss, Phil Goff, by deliberately sending him into this week's public debate without the numbers he needed to argue his case? Her eyes twinkle delightedly at the thought of such naughtiness there's no place for that kind of behaviour in the Greens, but it sounds like such fun.
Metiria has just flown up from Wellington, where she and MP Kevin Hague had launched the party's conservation policy: they would double spending to $820 million a year. It seems somewhat predictable for a party that blends left-wing and environmental politics throw money at the birds and trees. Perhaps that's why, to Metiria's slight disappointment, the policy launch doesn't make the news.
Never mind. She pads through to the kitchen, taking her wine glass with her.
On the way from Auckland Airport to her sister-in-law Eleanor's home in Eden Terrace, Metiria and husband Worik (there's a story to the spelling of his name, and we'll get to it if we have time) had stopped at the supermarket on Dominion Rd and picked up supplies for dinner.
The beef steaks, they are pretty sure, are "New Zealand-made". The tomatoes too, the eggs, spring onions, carrots and bagged-green salad leaves, they're all local. The red onion ahem is imported. So too the beans and limes. Worik brought the cucumber. Don't ask.
Metiria is making a Thai beef salad the same one that sparked outraged calls when she prepared it on the Good Morning television show. Turns out, some Greens' vegetarian loyalists didn't much like the sight of their co-leader preparing rare, bloody beef.
Metiria laughs at the recollection. She chats. She finely slices the greens, chopping the coriander into a neat and tidy pile.
Sorry, but it's just too easy: It's much like what she's done with the Green Party since taking joint leadership with Russel Norman. Tidy. Professional. Business suits and management consultants are in; long hair, kaftans and maypole dancing are on the fringe.
THE MP has an 18-year-old daughter, Piupiu, whom she brought up alone while studying law. She was a dyed-in-the-wool activist, never mind the cause - anarchism, feminism, anarcho-feminism, cannabis law reform, unemployed rights - just sticking it to The Man, really.
She and her partner Worik Stanton, a computer programmer, were both members of the McGillicuddy Serious Party. Worik says: "A true McGillicuddy knows to make his kilt out of wool because if you jump over a fire in an acrylic kilt, you'll burn something you value."
In 1999 she married Worik, and they got involved in the Green Party. Just three years later she was elected to Parliament, the youngest and most inexperienced member of a young and inexperienced caucus.
To many in Parliament, she was seen as a fringe radical. But to some of her former radical friends, she was a sell-out.
"I understand that by being part of the process, I am compromised...I am The Man," she says. "I have friends who decided they could never talk to me again after I entered Parliament. I understand where they come from, but I don't agree with them."
Flying around the country with wheelie luggage, policy papers and dry-cleaned suit jackets, there is an unashamedly romantic nostalgia for the days on the hustings. She's visited old friends, camped out in Dunedin's Octagon and defied a trespass order. She is keen to drop in on the Aotea Square occupation.
"The Occupy movement is f***ing awesome. If I was 20 and not a politician, I'd totally be there."
Well, you're not 20 and you are a politician, but why not go anyway? She wriggles out of that one with a joke: "I don't get to sleep in my own bed often enough as it is, never mind sleeping in a tent."
METIRIA TOPS up the wine glasses. There is a view from the dining room, out over Spaghetti Junction. People are letting off fireworks. The conversation meanders through the list of little-known candidates who could be elevated into Parliament if the Greens replicate their polling of 10-plus per cent, and into the disciplines of leading a party, professionalising it.
"We're deadly serious," she repeats, on three occasions. But, says Worik, instead of telling people what to do, we're trying to bring them along with us. He pauses: "Maybe this sounds a little bit hippie?"
Metiria just laughs, and chinks his glass. "Cheers, big ears," she says.
She hasn't travelled as much as one might expect she's never been to the UK, for instance. Leaders aren't allowed to leave the country that's when coups happen. And they laugh at the thought of the Greens stabbing their leader in the back ... "It would have to be coup by consensus".
Why is the Green Party so left-wing, though? Does one have to believe in high taxes and government intervention to want a clean, healthy environment? Metiria and Worik lean forward and become animated, posing questions, challenging scenarios.
It's well into the evening, it's the height of an election campaign, Metiria has a full diary through the weekend, leading up to the campaign launch. But it's quite clear that if I don't make my excuses and leave soon, they're going to be far too nice to throw me out.
So I make my excuses, and call a cab.
AH YES, one more thing. Worik's name. It was originally Warwick, as you'd expect. But in sixth form, he took some delight in deliberately misspelling physics as "fizzix". So the teacher retaliated by spelling his name "Worik". And it stuck.
When they married in 1999, he took Metiria's name, calling himself Worik Turei Stanton - but on the parliamentary ID card he gets as an MP's spouse, that is shortened to Worik Turei.
So, there you go.