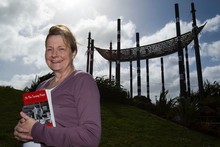 Andrew Stone takes a look at a new book by Margaret Pope - the speechwriter who became David Lange's second wife
The phrase that turned Margaret Pope towards David Lange - and started a five-year affair - was a throwaway line from the Prime Minister just a few days before Christmas in 1984.
Lange had been premier since July, when Labour defeated a tired Muldoon administration. Pope, a public servant-turned-party researcher, worked as Lange's speechwriter.
One of the women in Lange's Beehive office had already indicated that Pope was a favourite on the ninth floor.
"You're obviously number one," Pope was told.
Her status was confirmed a short time later. Lange appeared at her office door, just before heading back to Auckland and his wife Naomi and family for the weekend.
Pope: "He said nothing of moment until I said I hoped he would enjoy his weekend."
Lange: "I won't. You won't be there."
Pope, whose own marriage to architect Campbell Pope had run its course, was thrown off-balance: "I was dazzled. I was moved, because I knew reserve was an essential element of his character."
Here was a man, she thought, unwilling to seek out support from political colleagues, yet who had sought from her a commitment "when he could not be sure of the reply".
Pope, who is 60, has not talked publicly or written previously of these matters of the heart. She does so, sparingly, in a book published today: At The Turning Point.
Subtitled "My Political Life With David Lange", much of its core rests on the souring relationship between Lange and his Finance Minister Sir Roger Douglas, and the conflict that ripped Labour apart.
The author wrestles with the great betrayal at the centre of the fourth Labour Government: how a cabinet that sprang from a social democratic party embraced so fervidly the free-market currents of the times, alienating its supporters and signing its death warrant in the process.
She writes of the poisonous climate which eventually suffocated the administration as its principals exhausted their energies fighting each other rather than their political rivals and details the internecine conflict which erupted after Labour ditched its historic economic policy for a Treasury-driven revolution.
Pope reveals she, too, took part in the hostilities. On one occasion, with Lange and Douglas locked in a power struggle over the now largely forgotten flat tax row, she leaked correspondence to Richard Long, a senior Press Gallery journalist. Long was a neighbour of Pope's, and had once almost rumbled the secret lovers when Pope borrowed Lange's car and left it outside her Wadestown home.
But she admits she could barely foot it with Bevan Burgess, Douglas' adroit chain-smoking press officer, who would die in a ditch for his boss.
When Long's disclosures made the front pages, citing "Labour Party sources" and challenging Douglas' assertion there were no policy differences between him and the Prime Minister, Burgess drafted a note, which the Finance Minister took to Cabinet.
"Let's talk about it as adults," Burgess wrote. "But try to discredit me - take over my portfolio - manage announcements without consultation - make my position impossible - and you have big, big, trouble!"
The snapshots include the full context of the famous "cup of tea" phrase which the Douglas camp used as evidence that Lange had lost his nerve for reform. Speaking in Canberra in August 1988, Lange told his Australian audience: "But what say we sort of have a little breather here and then set off on the road again after we have picked up the casualties and had a cuppa."
Scattered through this political freight are glimpses of the affair which Lange and Pope conducted beyond the glare of public life until Naomi Lange famously let rip one Sunday in November 1989, blaming Pope - the "other woman" - for the break-up of her 21-year marriage. Even Lange's mother, Phoebe, waded in, saying hurtful things about her son.
The outburst smashed the walls the couple had built round their liaison, which had surfaced in the British satirical weekly Private Eye, but only been hinted at in the New Zealand media.
Writes Pope: "The announcement of the separation breached the dam that held back the flow of parliamentary gossip, and a torrent of sensation followed in which issues of marital infidelity tossed around with the most lurid allegations made during the battle with Douglas. David made light of the turmoil in public, although he paid a high cost in his personal life until the damage healed."
At home in Onehunga, Pope does not wish to dwell on her personal history. She has always fiercely protected her privacy and that of Edith, their 15-year-old daughter.
"It was a difficult balance," explains Pope.
"It has [the affair] become part of the story of that Government and it's certainly part of David's story obviously. Given there's bound to be interest in that side of it and I want people to read the book, I had to write something about it."
Though Turning Point might seem like a settling of scores, Pope insists her motivation was partly "self defence" and an endeavour to "set the record straight".
She remarked: "I found myself appearing in books written about the period and quite often I don't recognise myself."
One work she found intolerable was Cabinet Minister Michael Bassett's 2008 account, which the one-time Lange ally titled Working with David.
"What it said," asserts Pope, "was so inaccurate, so unfair, that it was really hard to let it rest. In fact, I probably wouldn't have written this book if it wasn't for that."
Six years after Lange's death, his widow considers that the country's judgment of her late husband is the sense of a "good man".
"I'm glad that's how people remember him rather than all those dreadful politics of the 80s, because he paid a really high personal price for what happened."
She says that being surrounded on his own side by "hatred and ill feeling" made Lange deeply miserable. She believes he was depressed because he wanted to be liked but lacked the political armoury or inclination to crush his opponents.
"For someone who liked to be liked and didn't want that kind of aggressive personal conflict, he did an amazing job."
At The Turning Point by Margaret Pope (AM Publishing $39.99).
By Andrew Stone