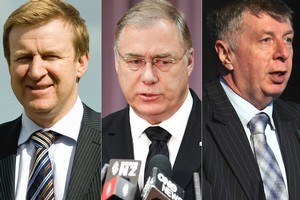 The Prime Minister is assured Maurice Williamson's behaviour at the Wallabies v Italy Rugby World Cup game on Sunday was appropriate, despite a prominent trade unionist saying the minister was booing and pointing fingers at the Australian team.
The Sydney Morning Herald published a story yesterday saying an unnamed Government minister booed and abused the Australian team for the entire game at North Harbour Stadium and was yelling out "f**ing cheats" and other offensive remarks.
Mr Williamson and fellow Government ministers Wayne Mapp and Jonathan Coleman were in the official box but all categorically deny having behaved badly.
General secretary of the National Distribution Union Robert Reid, who was sitting behind Mr Williamson in the private box, said the minister was not swearing but was verbally loud and booing.
Mr Reid told RadioLive yesterday it was all part of the atmosphere in the box.
"I think I might have even had a little boo there," he said.
"I actually didn't hear Maurice swear, but he certainly was getting very excited ... he was punctuating his comments by pointing his finger at Aussie players and at the ref when decisions went the wrong way," he said.
Mr Reid said that at one point the Australian contingent in the box "were not very happy-looking people".
A spokeswoman for Prime Minister John Key said today: "The Prime Minister has the assurance of Minister Williamson and two other independent witnesses that the Minister's behaviour was not inappropriate. The Prime Minister has nothing further to add."
In his article today, the Sydney Morning Herald columnist who wrote the article, Greg Growden, said his sources were "impeccable."
"Our `gossip' is pure gospel," the headline read.
- APNZ